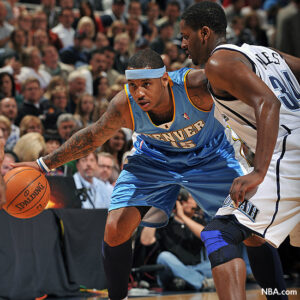 Denver Nuggets lead by Carmelo Anthony will be looking to win away at Utah tonight at 02:38 am UK time. It certainly won't be an easy game for the Nuggets as they face a serious opponent at their own building. However, when it comes to NBA predictions and basically sports betting in general, it's really important to consider the "Motivation" factor, or in other words – what's at stake for both teams and which is the side that will have a greater desire on the given day/night.
In this particular case right here, this side has got to be Denver because if they lose once again, they will have their backs against the wall. Going 3-1 down in a best of 7 series is the last thing you want as the pressure will add up tremendously knowing each game could be the last and each missed shot could be fatal. It's definitely something that a team like Denver would want to avoid because they got serious quality in their ranks and are actually the better side of the two in this playoff battle.
Denver Nuggets reached the Finals of the Western Conference last season and it was no coincidence. They have one of the best lineups in the entire league with a top player in every position. Melo is their scoring machine, Chauncey Billups is the brains of their basketball operations and of course he is also known for being "Mister Clutch" for all the game winning shots he has made in his career. Nene is a strong rebounder, able to shot from the perimeter and dunk on anyone in this league. Kanyon Martin is their best defensive player with all the blocks he makes and all the rebounds he picks up night in and night out. JR Smith is one of the best shooters in NBA capable of hitting 40+ points just when no one expects him to.  Of course we can't forget the Birdman, Arron Afflalo and Ty Lawson.
Here is the official Game Preview by NBA.com:

BetOnWins Prediction: Denver Nuggets Will WIN this game and tie the series with Utah. It will be a close game but the Nuggets should prevail at the end and the odds for them on Money Line are very good – bet365 offers 2.25 for Denver on Money Line.