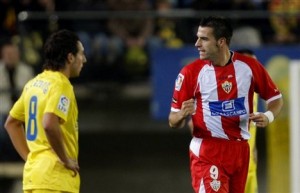 Villarreal's dreams of reaching the Champions League next year vanished completely with last Sunday's 1-4 defeat at home to Barcelona. However, the Yellow Submarine still has Euro ambitions to pursue as they aim to reach a Europa League spot when they meet their southern cousins from Almeria.
At 19:00 CET, fans of Spanish Football and people who like to bet on sports will be able to watch an interesting match featuring two extremely motivated sides going all out for the win. Almeria got back into the mix of sides trying to avoid relegation with their poor run of results recently as they have failed to win even a single game in their last 7 matches!
Here are their latest results:
01/05/2010     Liga BBVA    Xerez vs. UD Almeria     L – 2:1
25/04/2010     Liga BBVA    UD Almeria vs. Espanyol     L – 0:1
18/04/2010     Liga BBVA    Deportivo La Coruna vs. UD Almeria     D – 0:0
15/04/2010     Liga BBVA    UD Almeria vs. Real Madrid     L – 1:2
11/04/2010     Liga BBVA    Athletic Bilbao vs. UD Almeria     L – 4:1
04/04/2010     Liga BBVA    UD Almeria vs. Mallorca     D – 1:1
28/03/2010     Liga BBVA    Osasuna vs. UD Almeria     L – 1:0
24/03/2010     Liga BBVA    UD Almeria vs. Zaragoza     W – 1:0
As you can see, Almeria's last win in Primer dates back to 24/03 against Zaragoza, so we are talking about a run of 7 matches without even a single victory. With such a disastrous form, it's no wonder why Almeria are now just 3 points above the relegation zone with just 3 fixtures remainig. Almeria has managed to record just 2 points from possible 21 as they got 5 losses and 2 draws in their last 7 games. From the perspective of sports betting, and football predictions in particular, it's very important to examine the last few matches of the teams involved so that certain conclusions can be made.
Almeria are still a dangerous team and are playing at home. They will be fighting for survival which makes them even more unpredictable. One of the best betting tips here is to lay some money on them to Win against Villareal and the bookies are already well aware of how likely such an outcome is as they offer just 3.25 for a home win today! So our first betting prediction for this game is to bet on Almeria to pull off a surprise and beat Villarreal here!
However, if you are looking for a sure bet, although in sports betting there ain't no such thing as a sure-bet, but still, the safer bet would be to pick Both Teams to Score, because both Almeria and Villarreal will be fully motivated to get at least a point in that game. If Villarreal take an early lead, the home side will have no other option but to attack right back and eventually they should be able to score at least once. Should the opposite happen, Villarreal are still the classier side and will be able to get themselves back in the game and level the score.
BetOnWins Prediction: If you are looking for high odds then the best bet would be to pick Almeria to win. However, the most certain betting scenario is Goal/Goal.