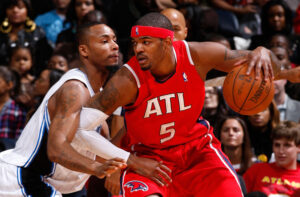 The Eastern Conference Semifinal series between Orlando Magic and Atlanta Hawks start tonight in what promises to be a very interesting tie. The Magic are finally about to get a run for their money in these Playoffs as they had quite an easy ride in the 1st round against the Bobcats, sweeping Michael Jordan's team 4-0. The Hawks were at the exact opposite end of things as they had to go all the way through a crucial Game 7 to go through.
There is one truly amazing fact about the entire Atlanta Hawks franchise. The Hawks have NEVER in their history reached the Eastern Conference Finals which absolutely astonishing for a club in which basketball legends like Lenny Wilkens (one of the most successful NBA coaches of all time in terms of Total Wins) and Dominique Wilkins have been. No one favors them to eliminate Orlando this year, but that's actually a good position for the young Hawks to be in as they should be free of any pressure, particularly after going through the hell of being 3-2 down in the 1st round series against the Bucks.
What's certain about Atlanta is that they have one of the most talented and energetic rosters in the entire NBA, although their win/loss ration doesn't speak much for it. We are talking about some really skillful players like Mike Bibby, Joe Johnson, Marvin Williams, Josh Smith, Al Horford, Jamal Crawforа (voted Best 6th Man in the NBA this year), and Zaza Pachulia. So this team has the potential to beat absolutely anyone in the NBA, but at the same time they tend to be inconsistent and can also lose against anyone. If they can get their act together, trust each other more on the court and move the ball around, they will certainly make live difficult for Stan Van Gundy and his men.
The great thing about betting on the NBA Playoffs and basketball picks in general, is that quite often the bookies under or over-value a given team. That's exactly what we have in Game 1 in terms of basketball betting – a win for the Magic on Money Line is offered at maximum of 1.16, while a win for the Hawks can be backed up at 5.25! We are talking about decimal odds here.
The Orlando Magic will face a much more dangerous team than the one they faced in the 1st round. Against the Bobcats, they practically had just two opponents to worry about – Steven Jackson and Gerald Wallace. The Hawks on the other hand have a much more solid and deeper roster. As matter of fact, the Magic didn't rank much higher than Atlanta during the regular season as they recorded just 6 wins more.
And there is another factor that could cause the big upset tonight (a win for ATL). Orlando Magic had a 9 day break, while the Hawks were going through the 7-game thriller against Bucks. Such a long break can work like a double-edged sword. Of course, it's great to rest in between series, but this rest looks more like a vacation for them. We are talking about a pretty long period of 9 days in which they haven't played a single Playoff game and we all know that training days are way different than match days. The Magic might have lost their rhythm while the Hawks might have just found theirs. If you are serious about NBA betting, these are exactly the types of things you should take into account.
Of course, it could also (and most probably) work in favor of Orlando who will be much better rested, totally up and ready for the game on a physical and energy level, while the Hawks will most likely be tired from the exhausting 7 Game thriller against the Bucks. So the most of the hawks could be completely out of touch and if that's the case Orlando will have no problem covering the -9.0 spread.
Here i the official Game 1 Preview: