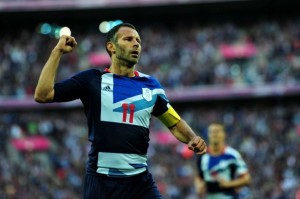 The best football betting prediction for today, August 1st, comes from the 2012 London Olympics men's tournament where the host nation Great Britain will take on Uruguay in a match that will decide which side goes trough the next round. It's no coincidence why we have selected this particular game as part of our Olympics mens football predictions. Both teams are of high quality, and we expect a well-balanced encounter that should provide a good spectacle for the fans. The game will be played at the Cardiff's Millennium Stadium, home of both Ryan Giggs and Greig Bellamy.
Of course, a major factor in this Great Britain v Uruguay prediction is how these teams have flared so far. The hosts drew their opening game against the Senegal, who have shaped up as the dark horse in this competition. Then came an expected 3-1 win against OAE, so now they have 4 points in total, putting them level with Senagal at the top of group A. Senegal however have the easier task tonight, as they will play against the weakest team in the group – OAE, so they should have no problems adding another 3 points.
It has been part of our policy to bring fans worldwide with the best football predictions for each day, and that means examining the available markets and picking carefully. The interesting part about this Great Britain v Uruguay prediction is the position of the away side. The Urus had to overcome an opening goal by OAE in the first game to win 1:2 at the end, but then they lost without even scoring against Senegal, despite playing with an extra man (Senegal got a red card in the 30th minute) for almost an hour of play. The Africans actually scored the second goal while playing 10 against 11.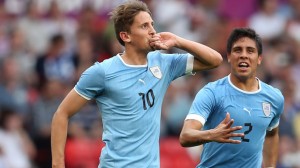 So now the Uruguayans, the 2011 Copa America winners, despite having a really good squad featuring some international stars, find themselves in a win-or-go-home position, while the hosts know that a draw would be enough to qualify. They do have the players to make it – Luiz Suarez, and Cavani are one of the best strikers in the world. Hernandez is another superb player, working his magic in midfied, and earning his money at the Seria A in Palermo. Lodeiro is a product of the Ajax footballing system. Coates, a young defender was recently bought by Liverpool and already featuerd for the English club in several official matches last season. Ramirez, their number 10, became a star at Penarol, then followed a transfer to Bologna where he is making an impact at the age of 21.
But as you all know, the most accurate Great Britain v Uruguay prediction for today would not be complete if we don't examine both teams. Logically, the Brits have stars from the Premier League to give them an edge – the eternal Ryan Giggs, who scored the opener against OAE, the fast and furious Greg Bellamy, are the allowed two players that can be over the age of 23. The rest are some fresh, but proven talents as Daniel Sturridge from Chelsea, Scott Sinclair from Swansea, Tom Cleverly from Man United, Aaron Ramsey from Arsenal, and Micah Richards from Man City.
Daniel Sturridge had some interesting comments to make in front of the Mirror Newspaper going into this game: "When a draw is good enough to see you through, it's always an awkward one. You find yourself playing for a draw, [then] they get a goal and then you have to open up. You kind of want to get a goal early doors and then try to see it out if you can. It's always difficult when you've got to get a point. It's better when you have to win the game because then you want to attack and show an attacking mentality. But now you know the other team is going to be attacking you and you have to be mentally ready for that. Uruguay are a very good team. (Edinson) Cavani is a great individual. We know he's been performing well over the last couple of seasons. They've also got (Luis) Suarez, who everybody knows."
Great Britain v Uruguay Football Prediction: To get our most accurate football prediction for today, register here.