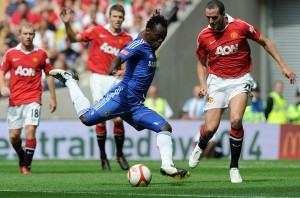 There can't be any doubt as to what the most anticipated football prediction for the today is. As usual, BetOnWins.com gives you the inside scoop with the most accurate Chelsea v Man United prediction for the 1st of March, 2011. Of course, had this game been played back in December, 2010 as it was originally scheduled for, it would have been much more intriguing in terms of the Premier League title race. Right now, Chelsea find themselves 15 points behind Man United, although they do have a game in hand. However, no one realistically thinks that the Blues have any chance of defending their crown.
The motivation factor is always a key when BetOnWins.com provides you with the most accurate football betting pick for the day. We analyze what each team is playing for and whose desire will be greater. In this particular case, most people seem to think that the Reds will be the way more motivated side going into this derby as they have the title on the line with Arsenal breathing down their neck. However, Chelsea should be desperate to win this one too, as they are currently out of the Champions League spots due to the emergence of clubs like Manchester City and Tottenham. Chelsea are trailing their fellow neighbors with 2 points, having collected just 45 points from 26 games, while the Citizens are third with 50. We can say that United and Arsenal are locked in the first two spots, but the other two, giving a passage to the Champions League playoffs next season, are up for grabs.
Should Abramovic's men lose again, it will be a major blow not only for their league ranking, but also for their confidence. Ancelotti will once again be bombarded with questions about his resignation, while the English newspapers will be filling their pages with theories as to who the next coach will be. Whether Mourinho is about to return at the Bridge soon, is yet to be seen. Bottom line is that a defeat is simply not an option for Chelsea.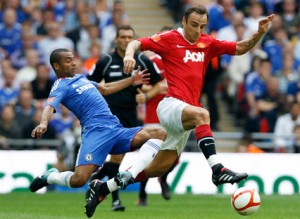 Man United don't have a lot of margin for error either as a loss here combined with an Arsenal win on the next round, will close down the gap down to just a single point! These are some really important facts to consider about this Chelsea v Manchester prediction. Basically, the outcome of this game holds the key to the future of both clubs. One of them can lose the title, the other can lose their regular participation in Europe's biggest footballing tournament and also the biggest source of money. When you look at this game from that perspective, it does appear that a draw would be the most acceptable scenario as neither team can afford to lose this one.
Speaking of draws, the online bookies are providing odds of about 3,20 for the teams to split the points, which isn't exactly "sky high". Perhaps it would be best to seek the much greater odds for Chelsea/Draw and Man United/Draw on First Half/Final Result type of bets that are offered by bet365 at 15.00!
The last time these two sides ended in a draw in the Premier League was in 2008 when the same fixture ended 1-1. An interesting historical fact about this Chelsea v Man United prediction is that the Reds have not won at Stamford Bridge since 2002!
Chelsea v Man United Prediction: If you want to play it safe, we would recommend you to pick the Goal/Goal type of bet at 1,90. If you are capable of taking some more risk for the sake of making way more money, then betting on 1/x and 2/x at 15.00 is the way to go. Should there be a winner, we reckon it's going to be Chelsea, at 2,20.