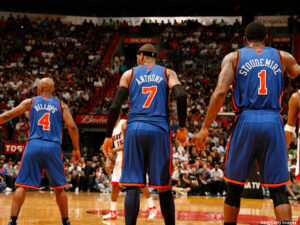 The top NBA betting tip for tonight features our Magic vs Knicks prediction. Thanks to their recent acquisitions, the Knicks have become one of the most exiting teams to watch in the NBA. There was a lot of talk as to whether or not giving up four really good players in the likes of Gallinary, Felton, Chandler and Mozgov was really worth it, but the way the Knicks played in Miami last Sunday was a testament of things to come. No one can deny that even though the four pieces Donny Walsh had to give up in order to capture Anthony and Billups, was a risky move for the club, but whenever you get a chance to to sign a real franchise player like Mello, you have to go for it with all you got.
Of course the Knicks lost a lot of depth because of that trade. Felton was having a great season. Gallinary was a fan favorite in the Big Apple, while Wilson Chandler was also playing the best basketball of his career. Mozgov on the other hand was also developing into a solid player. So trading away this group of talented players was definitely a though decision to make. However, you got to admit that the Knicks are now way more interesting to watch. I mean, we probably wouldn't have been looking into this Magic v Knicks prediction in the first place, hadn't the deal gone through.
Of course, this current New York roster does require a lot of gelling and development. They first won against the Bucks, which was not such a big deal given that Milwaukee are the worst shooting team in the league. Then this newly formed team lost agains the absolute worst team in the NBA – the Cleveland Cavaliers. A lot of questions were being raised at that point, until the game in Miami came around. The Knicks put out a stellar performance and lived up to their pre-game promise of making a statement.
They now continue their route in Florida as they visit Orlando led by Dwight Howard. The big factor in this Magic v Knicks prediction is indeed the presence of D-12 in the paint. New York simply don't have an answer for him as they haven't had a decent center ever since Pat Ewing retired. What's interesting now is that Ewing is an assistant coach for the Magic and he is Howard's mentor.
Another interesting feature about our Magic v Knicks prediction is that Carmelo loves playing down there and Orlando are actually the opponent in which he has scored the most in his career (besides his current team) – 28.1 ppg. So we expect to see him have another big game scoring 30+ points.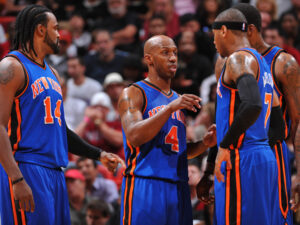 Continuing with our Magic vs Knicks analysis, it's important to note that these are the two teams that lead the league 3-point attempts per game. However, Van Gundy's men have not been making the most of their chances beyond the arc lately, as they have been hitting 31.3% of their shots whic is the fourth worst record in the league. So a lot about the outcome will depend on who shoots better from 3-point land.
Jameer Nelson does have the speed advantage against Chauncey Billups, but we all know that few can out-do Mr. Big Shot in the final minutes of the game when it matters most. That will be one of the most interesting match-ups on the court tonight. Amare will be paired up against Brandon Bass, and we all know who the winner of this match-up would be. Carmelo will be up against Hedo Turkoglu and our NBA pick here is for the Brooklyn native to perform better. At the shooting guard spot, Jason Richardson will go up against Landry Fields.
Magic vs Knicks Prediction: Donny Walsh has a birthday today and we expect the Knicks to give him a nice present by beating another big caliber team in the East. The online bookies are heavily favoring Orlando to win, thus the real value is on New York.