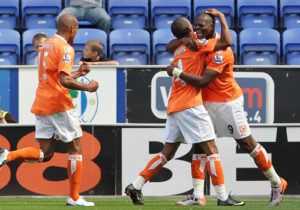 Monday night Premier League football is always exciting and tends to bring a lot of surprising results on the surface. This game features two freshly promoted sides that have both exceeded expectations so far, fans and experts alike. West Bromwich have posted a couple of impressive results, last one being a 2-2 draw at Old Trafford after being 2-0 down at half time. Blackpool did another major upset by beating Liverpool at Anfield, so an interesting game awaits.
The big results that Blackpool have posted so far this season are the 1-2 win at Anfield to go with the 0-4 trashing over Wigan at the start, and the 0-2 win at Newcastle. All these three victories have come on the road which shows that perhaps Blackpool are finding it hard to get good results at home, and it's usually the exact opposite. Anyway, Blackpool will be looking for the first win at home in the Premier League which is one of the reasons why we favor them to beat WBA.
Another factor working in favor of the home side here is that Blackpool have not beaten West Brom for exactly 40 years now which is an incredible stat. Their last victory against WBA came way back in 1970 and such large spells always come to an end. That's why our betting tip is for the home win here and online bookies offer it at really good odds of 3,20.
West Brom have not lost for 8 straight matches and that looks to be way too much for them. It's about time for someone to ground them and a hungry Blackpool side desperate to change their history around could well be the perfect betting opportunity for tonight.
Still, we can't completely write off WBA's chances of getting something out of this game but a draw will be the maximum here. Such newly promoted sides usually like to share the spoils because these are basically 6-point games that no manager likes to lose against what could be a direct competitor in the fight for survival in England's top flight.
Blackpool v WBA Prediction: Blackpool are looking for their first win in the EPL and they have not beaten WBA for the past 40 years! That's we favor a home win here, but you should back it up with a draw.
Bet On Blackpool to Win @ 3,20
*Keep in mind that we have another really good betting pick for tonight coming from the NBA featuring Kings vs Raptors so you might want to include it in a Parlay (combo type of bet).