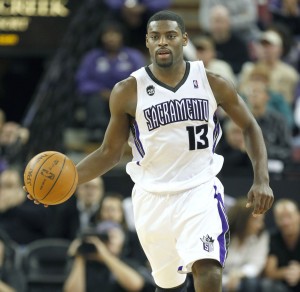 This Raptors at Kings prediction is one of the best betting picks for today for several good reasons. It's the home opener for the Sacramento Kings this season and all the tickets for the game are already sold out. The arena is going to be jam packed because expectations are high this year in the city as far as NBA basketball is concerned. Their coach Paul Westphal can rely on reigning rookie of the year Tyreke Evans once again as the impressive point guard is now back in the lineup after missing the season opener due to a disciplinary one-match ban.
According to the online bookies, the Kings are favorites to prevail over Toronto in this game as the odds for the home win are 1,54 against 2,65 on the Raptors. On this particular occasion, we have to agree with the bookies as we also favor Sacramento to grab the win in their first home game of the season.
Kings simply are the better team, both on theory and on paper and that should be evident on the basketball court tonight. If you look at their squad, you will notice that it's not just Evans who recorded 20 PPG and 8 APG last season, but they also got sharp shooter Omri Casspi from Israel, the seriously improving Carl Landry transferred from Houston, Beno Udrih from Slovenia, and of course the new super hot rookie DeMarcus Cousins. That's the starting five for the Kings and it's way better than the opposition here.
The Raptors are going through a rebuilding year as they lost their two leading scorers from last season in the likes of Chris Bosh who went South to Miami, and Hedo Turgoglu who was transferred to Phoenix to replace Amare. That's a major loss for them because we are talking about 30-40 points combined and about 15 rebounds on any given night. That's what makes the Raptors are much weaker team now, especially in offense where they can only rely on point guard Jack and Italian Andrea Bargnani.
Raptors At Kings Prediction: Bet on the Kings to win at 1,54 as they are the better team which in combination with a sold-0ut arena and the excitement of a season opener at home should make up for a safe bet.