No less than eight of our last nine football betting predictions have turned out correct, which is a remarkable run, and we have today's best Champions League picks and tips for Matchday 4. Apoel have turned out to be the biggest surprise in the competition this season, as they are on top of group G, ahead of the favorites Porto, Zenit and Shakhtar. In Group D, Valencia face a make-or-break encounter against Leverkusen, while Milan will have a tricky battle against BATE Borisov.
Apoel FC v Porto Prediction, Group G
Porto's minimum objective is to go through this group, but as things stand right now, they sit on third place with 4 points, while their hosts tonight are on top with 5 points. An interesting fact about this game is that Porto was actually the last foreign side to win at this stadium back in 2009. Since then, Apoel have not lost for 8 straight European matches at the GSP Stadium in Nicosia. A win for the Dragons will see them move to the top of the group, where they want to be, so the motivation will be sky high in both sides. It should be an entertaining affair with Over 2,5 Goals in it, with Both Teams to Score, and in terms of winner we expect the Portuguese giants to claim all three points.
Betting Verdict: Bet On Porto to Win @ 1,80 / Both Teams to Score @1,80

Zenit v Shakhtar Prediction, Group G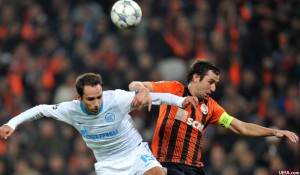 The other match in this tight group G features Zenit versus Shakhtar in what will be a do-or-die time for both teams. Shakhtar have no less than six Brazilians in their starting lineups and have turned into a real force in Europe. They won the UEFA Cup in 2009 and that marked their evolution into a real force on the old continent. They also got a brand news stadium in connection with Ukraine hosting this summer's Euro 2012. So a lot of money have been invested in this club, and yet they find themselves at the bottom of Group G with just 2 points. An away win in St. Petersburg is what they are hoping for, but it won't be easy against a Zenit side that's of similar quality and ambition.
What's important about this particular Champions League betting pick is that the Ukrainians will be missing three key players – Chygrynskiy, Fernandinho and Jadson. According to Spalletti, that won't weaken the opposition as his counterpart Lucescu has a so much talent at his disposal. Still though, in my opinion those are some of Shakhtar's best players and their absence will be felt seriously. Zenit are on a run of 15 matches without a home defeat, and they have also won their last 8 European matches. We feel this run is about to end tonight. Lucescu will give a chance to other skillfull Brazilians, such as Douglas Costa and Alex Teixeira.
Betting Verdict: Goal/Goal @ 1,80 / Shakhtar to Win @ 4.33 (BEST VALUE)

Valencia v Bayer Leverkusen Prediction, Group E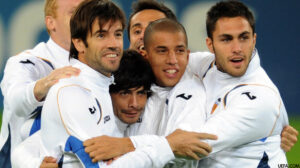 This games marks the last chance for the Spaniards to reach the elimination stage of the competition, as they are with just 2 points while the Germans have 6. Nothing but a win would do for Valencia tonight, so they will be pushing the pedal to the metal. Bad news for the team is that Sergio Canales suffered a serious injury which will put him out for practically the entire season (6 months). Still though, Los Ches have the necessary squad depth and quality to overcome this. They suffered a shock defeat against Bayer in Germany. The first half ended in 0-1 for Valencia, and nothing indicated that the Germans could come back in this game, as the visitors wasted at least three clear chances to extend their lead. But in the second half, in the space of just five minutes, Leverkusen turned this around and took a 2-1 win. Tonight though, they will be playing at home, which will be provide that extra bit of advantage that will allow them to get all three points.
Betting Verdict: Bet On Valencia to Win @ 1,61 or Goal/Goal @ 1,80