The Boston Celtics go into Game 4 of the 2010 NBA Finals knowing that a loss will pretty much end their title hopes. The Lakers got right back at them stealing an away win in their first attempt so they have a 2-1 lead in the series right now. Now it's Boston's turn to have a decent game and bring some joy to their home fans. It's an absolute must-win situation for the Celtics cause they can't overcome a 3-1 deficit against a team like the Lakers. Of course, that' easier said than done, but if their main stars shine brighter tonight they should be able to do it.
It seems that the story for the Celtics so far has been a solid Rondo in combo with just one of the Big 3 playing good. The other two are always hiding somewhere. In Game 2 we saw Rondo posting a triple double, while Ray Allen broke the Finals record for most 3 pointers scored in one game. He hit 7 out 8 threes in the 1st half! But Kevin Garnett went MIA with just 6 points and 4 rebounds. Paul Pierce wasn't exactly flourishing either as he was limited to just 10 points in 40 minutes of play!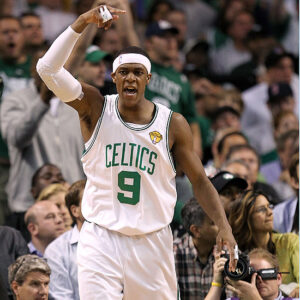 In Game 3 again we saw a solid performance by Rondo and one of the Big 3 playing good – this time it was KG who hit 25 points! But, Ray Allen look like a character from "Ice Age" as he went on to miss all of his shots! He was 0 from 13 from the field! How about that for a turnaround in just 48 hours!
Game 4 has to be the time where all these guys get their acts together, simultaneously. If they want to challenge the Lakers, they can't rely on just one or two guys playing great. They need all four of them – the Big 3 plus Rajon Rondo (the little Shrekster). If they finally manage to do that, they will put themselves in an excellent position to win this ball game.
We are yet to see Paul Pierce getting really involved in these NBA Finals. It's about time for him to step up and live up to his name and what fans expect from the captain of their team. He should be doing what Kobe Bryant is doing for the Lakers, scoring points in bunches particularly in crunch time in the 4th quarter. KG, Paul Pierce and Ray Allen have to find their consistency and connect. Our prediction is that this will be the case in Game 4 and that will ultimately give Celtics the win.
Boston Celtics v LA Lakers Game 4 Prediction: Boston Celtics to Win and even the series 2-2! The bookies on the Internet are aware of the fact that Celtics have the better chance of winning this game so the odds for them on Money Line aren't exactly sky high at 1,60 on Money Line.