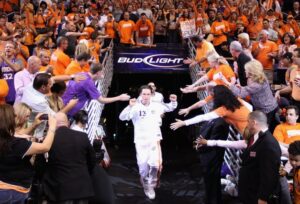 San Antonio Spurs take on the Phoenix Suns in Game 4 tonight after losing the first 3 games of the series. The Suns need just another win to close these Western semifinals and qualify for the division Finals against the Lakers which are also 3 up at the moment (against Jazz). Our prediction for this Game 4 between Spurs and Suns is for an Away as the Suns will be looking to complete a 4-0 sweep against the team that has troubled them so much in recent years.
An achievement like that will truly be remarkable and it certainly looks like Phoenix are the way better team which much bigger depth to it and play in-form right now. Manu Ginobili is one of the biggest competitors in the NBA, known for being a player who fights till the end and never gives up, but even he had to admit that the Game 3 loss was "demoralizing" in a sense they tried everything they possibly could to stop Phoenix and they failed each and every attack. The Spurs were hardly getting any stops in Game 3, while Goran Dragic but up a phonemonal performance in the 4th quarter. He scored 23 points by himself, 5 out of 5 threes, a few great cuts under the basket and practically allowed Richardson, Amare and Steve Nash to rest for the entire 4th quarter.
BetOnWins Spurs vs Suns Game 4 Prediction: Bet On Suns to win as Bet365 is giving away 2.55 odds on them on Money Line! That's an absolute gift! Suns will be full of confidence while Spurs will be in the exact opposite end – depressed. On top of that the Suns will have their key trio J-Rich, Amare and Nash well rested for this game so they will go out and put an end to these series tonight and become the first team to reach the Division Finals this season.