The derby of Manchester takes place tonight at the Eastlands with City hosting United in what promises to be a dramatic affair. Derbies are always the hardest matches to predict, but when two so even sides go head to head, it usually ends in a draw and that's what we feel it will happen here. Both teams are missing some important players  even though Sir Alex is the manager with more selection problems going into this one.
What we can say for sure is that we just can't see United winning this one for several reasons. First of all, the Reds are missing some key players with Rooney currently recovering in USA at Nike Town. Owen Hargreaves' highly anticipated return to the field ended in another injury (this Sunday against Wolves) for what was once a super talented midfielder. Ryan Giggs is also out with a virus. Antonio Valencia had his ankle wrecked a month ago and he won't return until late January. Michael Owen who scored the late winner in the 4-3 spectacle these two sides produced back in 2009, also misses out with health issues. And United's most effective player Nani is rated as "extremely doubtful" to participate in tonight's match. If the tricky Portuguese winger doesn't play against City, then the Reds just might lose this derby.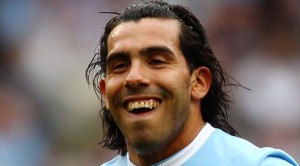 The situation looks way more positive for Roberto Mancini as he can rely on all his players except for Balotelli who got send off in their last game, so he is banned from this one. Emanuel Adebayor is currently rated as doubtful,and that could cause a lot of problems for the Italian manager in the attacking department. Still, City can rely on Ex-United player Carlos Tevez in combo with the pacey Spaniard David Silva. James Milner also likes to score goals in big games like that, so the hosts definitely have less problems to worry about going into this match. Alexander Kolarov (left back), finally looks like on line for making his debut tonight following his recovery from an ankle injury.
Judging by the list of available players, City certainly has an advantage. Plus, the way United have been playing recently, it certainly gives their fans no reason to be optimistic about their current condition of the club. Man Utd have been playing badly all season long. Their last win against Wolverhampton was particularly unimpressive as they needed a last minute goal from Park Ji Sung to clinch  2-1 win over a side that will ultimately battle against relegation. Then one can't help but think of all the points they wasted in the last minutes of their away games, starting from the 2-2 draw against Fulham, the two goals leaked in stoppage time against Everton (3-3), the goalless draw against Sunderland, and of course there was that 2-2 draw at home against WBA after leading 2-0 at the break.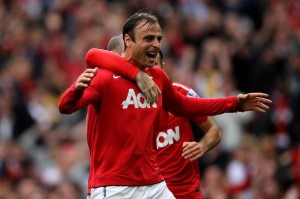 United have drawn 4 out 5 games when playing away from home this season, and that makes it highly unlikely for them to make another draw here at least from a purely mathematical stand point. An interesting fact though is that Dimitar Berbatov will be playing his 100th match for the Reds and has not scored since his hattrick against Liverpool so he might have been saving his goals for this big derby. A good betting tip is to back Berbatov to Score at Any Time @ 3,00!
Fact of the matter is that all the millions that City have invested in their squad are having a positive effect on their displays and that's no surprise considering all the talent Mancini has available at his disposal. It's the midfield where City will have an advantage tonight with Gareth Barry, Nigel de Jong, James Milner and Yaya Toure. Then in attack they can rely on wingers  Adam Johnson and David Silva to supply the energetic Tevez.
Meanwhile, United have looked quite blunt in attack now that Rooney is missing. Berbatov is top class, but he lacks consistency. One day he scores a hattrick against Liverpool, on the next he can't hit a shot against West Brom. Chicharito and Bebe need years to develop. Giggs is missing. Scholes is getting old now. Nani is doubtful for this game. So there you have it – City has all the factors on their sides for this match against their neighbors.
Man City v Man Utd Prediction: Manchester City are the better team right now and they are desperate for some success against their arch rivals. They lost this fixture last season going down 0-1 so the revenge factor will kick in as well. United are missing a lot of important players and have been out of form lately. Furthermore, the Reds are the only team left undefeated in the Premier League this season and that will change eventually, why not tonight?
*It's a derby so you should back this bet with a draw @ 3,20 (0-0 is also a good bet for correct score with odds going at 15.00)