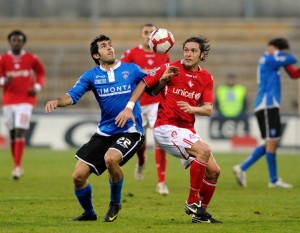 Our top football prediction for today comes from the Seria Bwin and you know whenever a bookmaking company is the main sponsor of a given championship, a lot of "surprise" results are bound to happen. Of course, we are talking about shady (fixed) matches and in such cases, the clubs involved like to go for the high odds to make loads of money. Today's top pick features Empoli against Piacenza.
Empoli are the only undefeated team in the Italian Seria B along with Siena after 8 rounds. Empoli are currently 3rd in the table. Piacenza on the other hand are without a win so far! Thus, we got a classic scenario for a surprise match with sky high odds. Empoli are undefeated this season while Piacenza are without a win! That's the perfect situation for a wise punter to lay some money on the team looking for their first win.
Piacenza are rock bottom with just 2 points. Their head coach has called up the following players: Cassano, Donnarumma, Avogadri, Calderoni, Conteh, Mei, Rickler, Anaclerio, Wolf, Bianchi, Marchi, Volpi, Catinali, Mandorlini, Piccolo, Guerra, Cacia, Guzman, Tulli e Graffiedi.
The online bookmakers like betclic, bwin and bet365 are heavily favoring the home side to grab all 3 points here as the odds for an Empoli win are 1,61. However, as we already explained, the real value is to bet on Piacenza to win this one and the odds for them are simply spectacular – 6.00!
Empoli v Piacenca Prediction: Bet On Piacenza to post their first win of the season against an undefeated Empoli side at the sky high odds of 6.00 at bwin.
To get our top picks everyday, sign up for our 7-days betting pack for just 5$ and we will give you an access password to check our special picks along with Email notification.