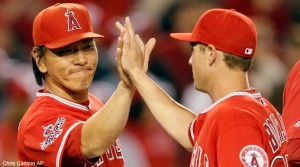 Here is our most accurate betting tip for tonight's MLB games. The MLB season is in full swing and we are on a row with our betting picks there. We have another winner in store for you and should you follow our advice plenty of money can be made.
Kansas City Royals at Los Angeles Angels Prediction
Players often change places in the world of sports and it's always interesting whenever they meet one of their former teams. Such will be the case tonight with Alberto Callapso who got traded from Kansas City to the LA Angels on the 22nd of July, 2010.
Nonetheless, Callapso has been feeling quite comfortable in his capabilities when playing against the Royals in a series of three fixtures that started on Monday and will end tonight. Callapso has been batting .286 in his first 17 games as an Angel. Since the trade, the Angels have gone 7-11 while the Royals are 6-13.
Another interesting fact about this particular MLB betting pick is that Royals' Billy Butler is on a big run as he has recorded at least a single hit in 88 straight series which is the third longest streak in the history of the club. That's a big component in our betting tips for tonight's MLB games because eventually such hot streaks come to an end.
Our Royals vs Angels prediction is for the home side to win as they have been in top form this entire month batting .289 and with Bobby Abreu taking over the lineup they have gone 4-1.
Best Betting Tip For Tonight's MLB Games: Bet On Angels to win at 1.58!