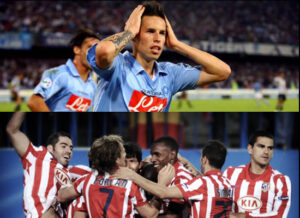 Today's football parlay comes from Spain and Italy and these are two high quality picks that when combined, can produce a total odd of nearly 4,00. It's a combo ot two Goal/Goals and the great thing about such bets is that you don't care about the end result, the bet gets settled immediately as soon as both teams score and considering how good are the accuracy of these football picks is very high.
Genoa v Napoli Prediction – Goal/Goal @ 1,83
Napoli have turned into a real force in Italy's Seria A as they are currently 4th in the standings on par with 3rd place Juve on 27 points. They won their last match 1-0 against Palermo in the previous round and have won 3 of their last 5 games. They are a scoring machine with world class players like Hamsik, Lavezzi, Cavani, and Maggio. Still though, we feel they will slip up tonight agains a hungry Genoa side that has also been in good scoring form as of late. Genoa, just like Napoli, have won 3 of their last 5 but particularly impressive was their last win 1-3 at Lecce after being 1-0 down at the break. Luca Toni started the comeback and he will be eager to continue his run in front of their own fans.
Bottom line is that Genoa are playing at home and are in great form right now so they will certainly score at least once here. On the other side, Napoli are the better team and given how good they have played all season long, they should be able to score at least once too, so Both Teams will Score here!
Final Betting Verdict: Goal/Goal @ 1,83
Atletico Madrid v Deportivo La Coruna – Goal/Goal @ 1,90
Atletico Madrid are going through a really bad spell lately and perhaps now is the best opportunity for Deportivo to get something out of their visit to Vicente Calderon. The last time Super Depor got all 3 points at this ground was way back in 1999! Atletico has been in free fall lately droping out of the Europe League in the very group stage of the competition after winnig it last season. Atletico Madrid have lost three straight matches now – 2:0 at Levente, 2:3 against Aris at home, 2:3 against Espanyol again at home. Still though, with players like Aguero, Forlan, Simao and Reyes, the Madrid side is guaranteed to score at least once here, while Deportive should not be understimated as they will be looking to end their bad run at the Vicente Calderon.
Final Betting Verdict: Goal/Goal @ 1,90
*The totall odd when you combie this two betting picks in a single parlay type of bet is 3,47 at bet365!