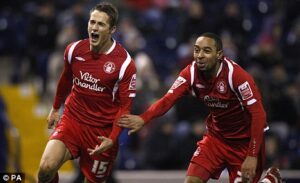 Nottingham Forest takes on Blackpool at The City Ground tonight as one of England's most historical football clubs bids for a return to the Premier League. The first leg of this semi final ended 2-1 for Blackpool after Forest took the lead with a magnificent goal by Cohen in the 13th minute. Blackpool were able to turn things around thanks to a penalty scored in the 57th minute by C. Adam.
This is the biggest game for Forest in years. It's one of the biggest clubs in England from a purely historical perspective. It was founded way back in 1865! Nottingham Forest have won two European Cups (now called Champions League) in 1979 and 1980 along with two European Super Cups, again in 1979 and 1980. They have a lot of fans not just in England but all over the world and it will certainly be great for football if they return to the top flight. And the truth is they deserve it. Blackpool is nowhere near them in terms of footballing traditions and history. The pitch on which they played the first leg was terrible whereas Nottingham Forest have a really nice stadium – The City Ground with a capacity of over 30,000 and even hosted matches from the Euro 1996 that was held in England.
Nottingham dominated for large periods in the first leg, especially in the opening 45 minutes and took a well deserved lead only to see it evaporate after some childish mistakes in defense. Even Blackpool's manager Holloway admitted that his side doesn't have the credentials to play Premier League football: "We might get thrashed every week."
Nottingham Forest have much more quality and depth in their squad and they also have some good news ahead of this crucial game. Their French midfielder Guy Moussi is set to return after missing the first leg with a groin injury. Paul McKenna will be in much better form after playing his first game on Saturday in two months and the same goes for goal scorer Chris Cohen. Their leading scorer Robert Earnshaw is also set for a starting role.
Nottingham Forest vs Blackpool Prediction: Nottingham Forest are going to Win this game! Bet365 offers 1.72 for a home win so you can bet your money on Forest to win and proceed to the next round. They simply are the better club in terms of squad quality and traditions. It will be great for the game of football to have such a historical club back in the elite. Keep in mind that it's highly likely for this two-legged affair to go into Extra Time, because the Away Goal rule doesn't apply here, so you might want to look into the Special Bets offered by Bet365.