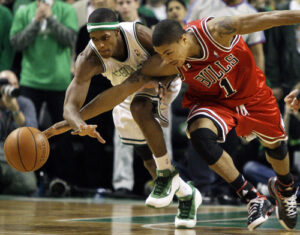 Sunday's NBA betting predictions are all about big games and big odds. We put our focus tonight ont this Bulls at Celtics prediction, as this is without a doubt the most anticipated match. The Bulls managed to set an NBA record for four straight road wins with 20+ points difference in each victory. That's a huge accomplishment, but we reckon it will end tonight.
When it boils down to making the most accurate NBA betting predictions, it's usually about closely following the league on a nightly basis and knowing what the flow is, then just go with it. And that's what we do for you. We spend the time watching those games and following the whole intrigue closely. As such, we are placing ouserlves in the best position to make the most top notch NBA betting analysis, predictions, spreads, and odds understanding.
The odds are stacked up against the Boston Celtics, despite the fact they are playing at home. The reason is simple – Chicaco have the best record in the league, they are coming of those record four straight road wins with 20+ margin on average, and now they are facing a somewhat disturbed and shaky Celtics team that has lost their last two.
As we've said a lot of times before, correctly guessing the outcome of basktball matches is about analysing the finer details of the game. The hidden trends, the form of players, the direct match-ups. All of that makes the difference on the score board at the end. These are the keys to the most accurate NBA bet tips and picks.
So let's get down to the bottom of this Bulls vs Celtics prediction on February 12th, 2012. The C's will be eager to bounce back especially after their dramatic loss to LA in OT. They had several days for rest and getting prepared for the Bulls game.
Bulls at Celtics: These Boston vets know they need a statement game here. Rose is rated as questionable with back pains, so even if he does play, he probably won't at 100%. Rondo, Allen, Pierce, Garnett, and now with Peitrus and Bass coming of the bench, Boston are capable of beating any team in the league on their day. They are the best 3-ponit shooting team in the league right now and that's another advantage for the hosts in this Bulls at Celtics prediction.
NBA Betting Prediction for Bulls at Celtics: Celtics to Win @ 2.40