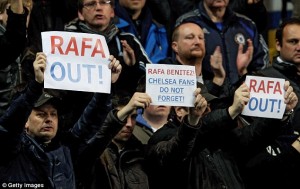 Today's best football betting pick comes from the English Premier League and this Stoke v Chelsea prediction. Football fans are accustomed to the ups and downs surrounding their beloved club, but it does seem that the situation is getting a bit extreme for the Blues. It's been mostly downhil for them ever since the season started, except for some momentary explosions. Fact is that Rafa Benitez has only brought more misery thus far, so the big question today is how will this soap opera continue for Chelsea today?
The true Chelsea fans have been against Rafa Benitez from the very start and that's absolutely understandable given his poor managerial record, his history as a Liverpool manager, and the way things have panned out thus far. It does seem that things were much better with Roberto di Matteo in charge. There is no logical explanation why Abramovic would fire the manager that brought Chelsea their most important title in club history (Champions League) in combo with the FA Cup, but there you have it. This is the way modern football is, and there are a lot of ridiculouness about it.
Rafa Benitez does have an important role in this Stoke v Chelsea prediction. For him to retain any sort of credibility, the Londoners must get all three points here, but everyone knows how rough and though Stoke are. The Potters are the unbeaten at home this season, and that's a serious stat. However, few would say that Benitez has been turning things around. As a matter of fact, the situation seems to be worsening for the Blues.
What makes this particular Stoke v Chelsea prediction our best football betting pick for January 12th, 2013 is how bad things have gone for the Blues lately. They lost their last Premier League game at home against the absolute bottom side QPR without even scoring a single goal. If that wasn't bad enough, they lost again at home without scoring (0:2) against Swansea. Perhaps the only piece of good news there was that it was a League Cup game, but that's not the type of performances one would expect from a club with such huge ambitions and expectations.
The only piece of good news for Chelse fans lately has been the acquisition of Demba Ba. Demba will provide Chelsea with a much needed alternative in the attacking department, as Torres seems to be completely incapable of ending his scoring drought for good. An interestint fact about this top football prediction for today is that Demba used to play for Stoke, so it won't be too surprising to see him get on the scoresheet here.
Stoke v Chelsea Prediction: To get our betting prediction for this game, register here.