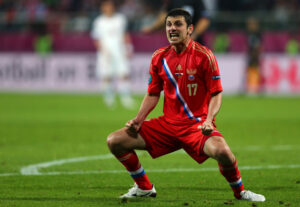 The European football fest continues with this very best Poland v Russia prediction for June 12th. The hosts from Poland have the fans and refs on their side as we all saw in the opener, but would that be enough against such a solid side as Russia? Both national sides are quite strong, and thus an obvious Poland v Russia prediction would be for a thrilling game with some goals in it.
Poland, despite the scandalous ref decisions that went their way, still couldn't manage to beat one of the weakest teams in EURO 2012 – Greece. There was absolutely no red card against the Greek player, both of his yellow cards were heavy and not deserved. And then, Greece were denied an obvious penalty at the end of the first half. Good thing for them is that Poland's defense made a terrible mistake, particularly their keeper from Arsenal, so they let a cross sip in for Greece to level and end 1-1.
Russia on the other hand had a great opening game against a strong side such as the Czech Republic, who despite having arguably Europe's best keeper in Peter Czech, still conceded four spectacular goals. Dzagoev is shaping one as one of the best young rising stars in the old continent and he will be the main figure for this Russian national side when they host the World Cup in 2018. But as far as the present is concerned, he is already one of the leaders in this team.
As usual, in order for us to bring you the most accurate Poland v Russia prediction, we take our time to examine the strengths of both teams. Russia are the more dangerous side, and they showed a great ability to attack on the counter. Arshavin, after coming home from from his troubled spell in London, now looks back to his best, making some fine runs on the wing and some great passes. Dzagoev has already been commented on, Pavlyuchenko made an impressive appearance as a substitute, and Kerzhakov is another fine offensive weapon. So there you have it, our Poland v Russia prediction is that the away team will have plenty of chances to score.
Russia will enter this game with their confidence being sky high, while Poland would be feeling a bit down after their disappointing draw against Greece. That psychological moment would be quite decisive in this Poland v Russia prediction for Euro 2012 on June 12.
Poland v Russia Prediction: Goal/Goal @ 1.90