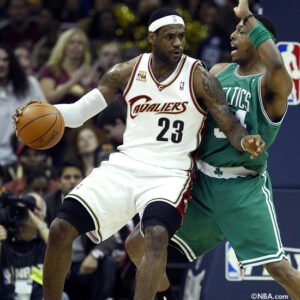 With the series tied at 2-2, the Cavs take on Celtics in Cleveland for tonight's crucial Game 5. BetOnWins is your best source for free NBA predictions and sports betting picks and thus we will analyze this game for you so that you can bet on wins and make money.
LeBron James and Co completely trashed the Celtics in Game 3 to remind them who is the boss. In fact, it was the largest loss in the history of the Celtics as they went down with 29 points, 124-95. But in Game 4 it was a completely different story as the Cavs simply didn't look like their usual self, particularly LeBron who looked sort of out of touch and didn't take as much as shots as he normally does. But now, at their own building in front of their own fans, they will certainly live up to their own high standards and grab the win.
Here is a small part of our 2010 NBA Finals Preview. Celtics are a thing of the past. Yes, they might have all the experience in the world but the energy is missing which is normal for players over 30 years of age. Kevin Garnett is 34 years old! His vertical jump is no longer the same and you see that every time he goes for a dunk, or actually when he tries to dunk. You can forget about those fast moves and dunks over people he used to make from back in his Minnesota days. Paul Pierce is in a complete slump right now, really struggling to pick his game up against the Cavs. His performances against LeBron and Co have been nothing short of tragical. The player who fans nicknamed "The Truth" is playing more like "The Hoof" right now. And that should come as little surprise considering his age – Paul is 33 years old right and his glory days are over. Ray Allen is the only of the Big Three that's more or less playing at good level, simply because his game is based on long range jumpers and there are few better players in that category than Ray-Ray. But just in case you are wondering, Ray Allen is 35 years old! So Pierce is 33, Garnet 34, and Allen is 35 years old. These are three of Boston's 5 starters. No need to comment any further. The best NBA betting advice you can get for these Playoffs is to stay away from the Celtics and not lay money on them against the Cavaliers.
The Cavs have one of the deepest teams in the NBA as LeBron is now surrounded with talented teammates in the likes of Antawn Jamison, Mo Williams, Varejo, Parker, Delonte West, Hickson, Jamario Moon, and of course let's not forget about Shaq who is having a really stable season posting above 10 points and 10 rebounds every night. The Cavs are much younger than the Celtics and are much hungrier for success, plus they want to prove to LeBron that they are doing all the best to keep him for next year. Here is one of our free NBA predictions – Cavs will have some troubles eliminating the Celtics but there is no doubt they will win these series and face the Magic in the Eastern Conference Finals.
Here is the official NBA.com Game 5 Preview:

Cavs vs Celtics Game 5 Prediction: The Cavs are going to Win this game! It's also a good idea to bet on them scoring the first 20 points in the game as they are the best 1st quarter team in the NBA. Another interesting NBA betting pick with a lot of value to it is to bet on the Celtics/Cavs on Double Result which is available at 5.25. Another really good NBA betting pick for this game is to bet on Mo Williams to score over 14.5 points which he should be able to considering Cavs are playing at home and for them to win Mo has to step his game up. That bet is available at bet365 at 1.83!