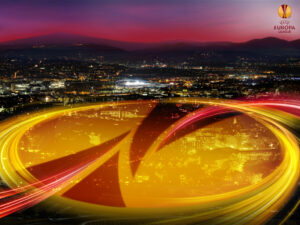 After over 450 games played with 192 teams involved, it all comes down to the unlikeliest of finishes as Atletico Madrid take on Fulham in Europa League Final tonight in Hamburg. Few could have predicted such a finale to the first edition of the newly formed Europa League competition. Liverpool, Roma, Juventus and of course the hosts Hamburger SV were the main favorites on people's minds just a few months ago, and yet we will be watching the currently 9th team in Spain against the 12th in England.
However, it was no coincidence how both sides reached this make or break game. Fulham FC started the competition from Group E and went a long route to reach the Final, while Atletico Madrid directly entered the elimination phase as they came from the Champions League. Ever since the start of the tournament, Roy Hodgson was often quoted saying Europe League was not among their priorities. And yet we all know now this was just a mind-game trick by an extremely experienced manager.
Fulham are lead by one of the greatest coaches in the game, Roy Hodgson who was awarded Manager of the Year. They managed to eliminate last season's winners Shaktor Donetsk, which is probably a sign of things to come. Then they pulled of a miracle comeback against Juventus winning 4-1 at home after losing the 1st leg 3-1 in Torino. Their next opponent was Wolfsburg and they also got rid of them in fine style, 2-1, 0-1, 3-1 Agg. But perhaps the biggest upset they managed to make was eliminating the hosts tonight – Hamburger SV (0-0, 2-1) which were tipped by both bookies and football experts to go all the way.

Atletico's route to the Final was just as impressive as they started by defeating Turkish giants Galatasaray 3-2 on aggregate, then eliminated Sporting Lisbon thanks to the away goal rule (0-0, 2-2), and did the same to local rivals Valencia (0-0, 2-2). They pinnacle was against favorites Liverpool and had to settle it in Extra Time thanks to Forlan's goal and again the Away Goal rule helped them as the Aggregate result was 2-2. So Atletico Madrid is the more luckier side of the two, and it's probably about time for Lady Luck to turn her back on them.
Atletico head coach Quique Sanchez Flores rested the majority of his starters during the weekend Primera fixture (a 1-1 draw with Sporting Gijon) so he will have a fully-fit squad to choose from for the Final, except for their goalkeeper Sergio Asenjo. But his substitute De Gea is doing a good job so far. Tiago and Ibrahima are unavailable for selection in Europa League.
Probable Starting 11: De Gea; Ujfalusi, Perea, Dominguez, Lopez; Reyes, Assuncao, Garcia, Simao; Aguero, Forlan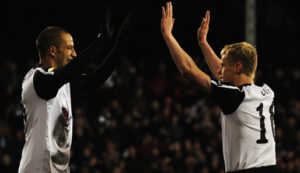 Roy Hodgson had some worries about the fitness of his main striker Boby Zamora but the Englishman passed a late fitness test and now looks set to start the game. Damien Duff was also in doubt but according to the latest news from Fulham's camp, the Irishman will also feature in the starting 11. Stefano Okaka and Nicky Shorey are unavailable for selection in Europa League.
Probable Starting 11: Schwarzer; Paintsil, Hughes, Hangeland, Konchesky; Duff, Murphy, Etuhu, Davies; Gera, Dempsey
In terms of betting predictions, this game as any other final, is a really tough game to call. From a purely betting perspective the outcomes are simple – you can bet on Atletico which are the more technical and attacking side at odds of 2.10 at Bet365. The Value though is definitely on Fulham and it's quite hard to explain the difference in odds for such a close encounter. Fulham are rated at 3.50 by Bet365!
It looks like the best bet for such a tight game is "Both Teams to Score", also known as Goal/Goal. Ateltico Madrid have a great offense powered by Simao and Reyes on the wings shipping balls to some of the best finishers in the game right now – the South American duo Aguero and Forlan. So Atletico will certainly score at least once, but they also have a shaky defense and their starting goalkeeper is missing, so Fulham should take advantage of that and bring joy to their fans that have traveled the long distance. The good thing about this type of bet is that you can cash in on it as soon as both teams score which might as well happen in the First Half and then you can use the winnings to bet some more in the second on something else.
But we have another really good football pick for this game. It's a bet on the Europa League Outright Winner and we have a feeling it's going to be Fulham! Bet365 offers the best odds for this one as you can back Roy Hodgson' side at 2.37 and it doesn't matter whether they win it in regular time, extra time or in penalties. There are several reasons why BetOnWins favors Fulham – first they got the better coach, they are an English side with plenty of tough and experienced players that play like a real team, their route to the Final is way more impressive, and last but not least, Atletico won't have the Away Goal Rule to help them today!
Bet On Fulham to Win Europa League at 2.37! It has been 137 years since Fulham was formed as a church team and have never won a trophy in their entire history!