One of the most anticipated basketball matches takes place tonight at the Madison Square Garden, so we have prepared for you the most accurate Lakers at Knicks NBA betting prediction for December 13th. These two ball teams couldn't have been further away from each other in terms what the fans expected at the start of the season and how things have actually unfolded in reality. The Knicks have been firing on all cylinders taking the league by storm, while things have been going from bad to worse for LA.
There are a number of keys to this NBA betting prediction featuring Lakers at Knicks at MSG. The Knicks have formed a solid core of veterans. They are actually the oldest team ever assembled in the NBA, but that translates into experience, knowledge of how to play the right way and ability to win close games at the end. They are no joke like previous years. These guys are for real and I believe they can make it all the way unlike the Lakers. Initially everyone thought it was the other way around. But that's how it often turns out in the NBA.
Truth is that the Nicks are like a 2012 version of the Dallas Mavericks that won the league in 2010. They got the great 3 point shooters and an ALL STAR player capable finishing games. Tyson Chandler plays the role of Tyson Chandler while Jason Kidd is Jason Kidd. It's like they're following the Mavs formula the worked so well against the Heat back in the 2010 NBA Finals.
Carmelo Anthony knows all that's missing for him is that championship ring and he looks really determined to get it now. Mello is playing the best basketball in his career and he's currently 3rd in the league in scoring. He's coming off a great game in Brooklyn against the Nets where he carried his team to a comeback victory by logging 45 points.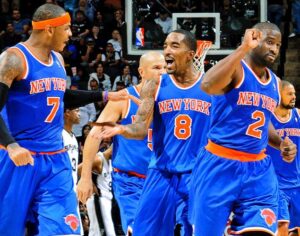 Up against them tonight will be a wounded Lakers team. the Lakers are so heavily wooded, they're practically dead. However there is one man on their roster that loves to play at the Madison Square Garden. We all know the name of that man and if the Black Mamba catch fire tonight there's no telling how this game could end.
It seems that there is no end for the Lakers' miseries this season, and they are getting from bad to worse. First they lost Nash seemingly for just a week, which has turned into a couple of months. Then his backup Steve Blake went down with an injury of his own making him unavailable this January, so the young and shaky Morris has to try and step up, but he has failed tremendously at least in my opinion. And if that wasn't enough, Pau Gasol is suffering from a tendinitis on both knees and his return date is unknown. Dwight Howard is not playing hard enough and just seems to be making grimaces out there on the court. The only player on their roster that brings 110% every night is Kobe, but he can't do everything on his own. Things are definitely not looking good for the visitors going into this LA Lakers at New York Knicks prediction for December 12th.
It's quickly becoming quite evident that it wasn't Mike Brown's fault that Lakers had such a bad start. They have actually gotten worse under D'Antoni are now on a three-game losing streak and a 9-13 record. It might sound like a joke but it seems that the question with them right now is not can they win a championship, but can they even reach the Playoffs?
Truth is that Kupchak went the wrong way with this summer dealings, and Lakers ended up with a bunch of players that are totally incompatible, and a second unit that's among the worst in the NBA. It does seem that their roster needs serious rebuild as soon as possible. Some might say – "Hey, wait till Nash gets back!", but come on! Steve Nash is no longer the game changer he once was, and he is at the end of his basketball road so injuries will get more and more often for him. But even when he is healthy, he can't play at the pace of the new gen point guards in the league, like the Rondos, Irvings, Pauls. The fact that the Lakers organization is waiting on a 40-year old to come back and turn things around seems pretty ridiculous to me. But in just a single game, pretty much anything can happen in the NBA.
Betting Verdict: To get our betting pick for this game, register here.