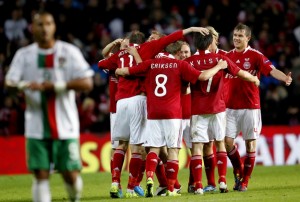 We continue our run of the best EURO 2012 predictions with this Denmark v Portugal pick for June 13th. The tournament has now entered the second round of the group stage, and these two teams are on the exact opposite end of the footballing fortune. While Denmark had an extra bit of luck as they surprisingly defeated Holland in their opener, Portugal hit two crossbars and missed a clear goal opportunity in the final minutes in their 1-0 loss to Germany. Furthermore, these two particular footballing nations share a lot of history between them, and we take it all into account when making the most accurate Denmark v Portugal prediction for June 13th, on EURO 2012.
Speaking about the history between these two sides, an interesting fact about our Denmark v Portugal prediction is that during the last Word Cup and Euro qualifications, they were drawn in the same groups and in both instances Denmark finished in front sending Portugal to playoffs.
We have already made some of the most accurate EURO 2012 predictions thus far, and we want to continue that run. An interesting stat is that Portugal, despite having one of the game's most deadliest players ever in Cristiano Ronaldo, combined with a similar in style Nani, have only scored a single goal in their last four games! As one could imagine, they have not won any of these fixtures, losing their last two and drawing the other.
Bottom line is that Portugal needs goals if they are to qualify and make an impression at the Euros. They have the necessary quality to do that, although perhaps their biggest drawback is the lack of a good central forward, as neither Postiga nor Hugo Almeyda are world class. But it is what it is, and Paulo Bento will just have to the make the most out of the players that are available to him. One of the best Denmark v Portugal predictions for EURO 2012 is that Portugal will definitely score at least once here. Yet, one should not underestimate the Red Dynamite, especially given how well they have played against that particular opponent in recent years and the impressive opening win against the 2012 World Cup Finalist.
Attack Nelson Oliveira could be the surprise inclusion from Paulo Bento in his quest for goals. The young forward from Benfica had a good 20-minute spell against Germany after coming on as a substitute, so he could be given the start on June 13th, given how poor Postiga has been.
Obviously, whenever we attempt to make an accurate prediction of the EURO 2012 tournament, and this Denmark v Portugal prediction in particular, we examine the past encounters, current form of the available players, table rankings and some other factors that we might not disclose in these articles. Anyways, the point is that Portugal does appear to be the favorite even if it's only on paper. Ronaldo and Nani will be create the dangers up front for the Danes, while Moutinho, Veloso and Meireles will attempt to win the midfield battle. Their defense is solid as well.
Given the obstacles behind this game, a good Denmark v Portugal prediction is that the Danes will be content with having most of their men at the back, and not try to rush too many of them in attack. Their coach is a smart guy and his idea would be to take advantage of Portugal's desperation as only a win would do for them. So we expect Portugal to have more control of the ball and create the higher number of chances.
13 June, EURO 2012 – Denmark v Portugal Prediction: Portugal to Win @ 1.90