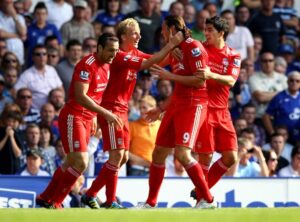 Today's best football tips come from the Champions League, but also the English Premiership as we have this Liverpool v Everton prediction prepared for you. It's the Merseyside derby that's also among the biggest game in Britain's footballing calendar. For the local fans, few things mean more than the win here, so you can expect a lot of pressure on the players in both sides and yet quite energetic game. These two sides are on the exact opposite end of things as Liverpool have lost four straight games, while Everton have not lost in their last ten matches.
Given how much they have suffered lately, it's about time for the Reds to get all three points, and what better moment than the local derby? Suarez is finally back and getting back to his best. Steven Gerrard is also in line for this one, so it looks like the stars are aligning right for Kenny Dalglish and his men.
It's interesting to note that this Liverpool v Everton prediction has an extra twist to it as both managers are Scottish and David Moyes just celebrated a whole decade in charge of the Toffees with their win against Tottenham last Sunday. Jammie Carragher who is actually an Everton fan is expected to start this one and although he has all the experience in the world, he is way too slow for the modern game and the years just might catch up with him tonight.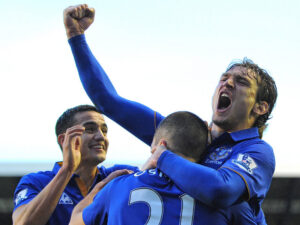 Chelsea without even conceding a single goal. That speaks volumes for their defense and overall display. However, if there is one thing certain about this Liverpool v Everton prediction, that's got to be that the Reds will put at least one past Howard. Everton are dangerous as well, so the Goal/Goal bet at 1.83 seems a sure shot. Jelavic who was brought in from Rangers has already opened his scoring account in England, while Cahil is ever-dangerous, along with Pienaar and Baynes.
So another good Pool v Everton prediction for March 13th is that it will be an attractive game with Over 2.5 goals in it. Liverpool will be desperate to get the win, so they will be attacking from the very first minute, while Everton is at their best on the counter attack, thus the scenario of this derby suits them perfectly. The most logical scoreline appears to be 2-1 for Liverpool, but such derbies are always difficult to predict. There you have it – those are some of the best football betting picks and tips for today, March 13th, 2012.