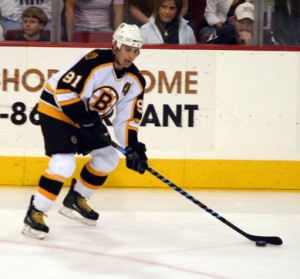 Boston Bruins lead 3-2 in the best of 7 series and will be looking to finish off the Flyers tonight. Boston started the series with 3 straight wins followed by two straight losses and as some people say, the 4th win is always the hardest one to get but it's about time for them to do so.
Even the Bruins captain had to admit that he and his teammates were playing a bit nervous in those last two games and are feeling sort of hot under the jersey. They are still in pole position to win these series as all they need is to play like themselves without any complecancy.
The Flyers are looking pretty resilient right now even despite losing their starting goalie Brian Boucher to a torn knee ligament. They will also be missing  Jeff Carter (right foot) and Ian Laperriere (brain contusion).
Boston Bruins v Philadelphia Flyers Game 6 Prediction: The Bruins To Win and close the series tonight 4-2! The odds for Bruins on Money Line are pretty good – 2.25 at Bet365 and 2.15 at BetED!