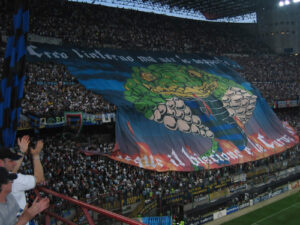 It's the 275th edition of perhaps the biggest city rivalry in world football as Inter takes on Milan in a match that will have crucial importance for the title race. As it goes this season in Italy, Milan and Inter appear to be the best two teams with highest chances of winning the Scudeto. However, it has been just too much Inter in recent years with the Black and Blue winning the league now 6 times in a row. Milan made some impressive transfers over the summer in their bid to finally stop their neighbors with Ibra, Robinho, and Boateng coming in. These reinforcements have made the Rosoneri our favorite for the title in Italy, but that doesn't mean they will triumph tonight.
Inter are not going through the best of stats in this new campaign as they are drawing just far too many matches. Inter have drawn the same amount of matches they've won – 5. They are coming into the derby after 2 straigth 1-1 draws, at home to Brescia and away at Lecce this Wednesday when they conceded a late equalizer from corner. However, Internazionale had two three important absentees in those two matches – Julio Cesar, Wesley and Esteban Cambiasso which are their best performing players so far this season along with Eto'o and Lucio.
Julio Cesar is perhaps the best goalkeeper in the world and he has won so many points for Inter during those Championship winnig seasons that he must be their most valuable player. The saves he makes are unreal at times and in a match against such an attack-geared Milan side his presence is invaluable to the club. However, as it was officially confirmed, Juio will not start and will be replaced by Castellazzi and as good as the Italian is, that will weaken Inter and give Milan's dangerous attack more chances to score.
Meanwhile, a lot has been going on with Wesley Sneijder lately. He went unconcious for a moment at half time during the 1-1 draw with Brescia last Sunday. He was immediately hospitalized and diagnosed with Anemia. As it turns out, the treble-winning run under Mourinho along with reaching the Finals at the World Cup with Holland have completely exhausted Sneijder, and the same can be said about his fellow country man Robben who was just as vital for Bayern in 2009/10.
Anyway, Sneijder will be back in the starting lineup against Milan but we can only guess in what condition he will be. That's a big question mark for Inter but still the presence of the Dutch is crucial to them as he is the mastermind of all their attacks with his exceptional passes to the men up front. And these "men" are clinical big-time scores – Milito and Eto'o. Samuel Eto'o has been thriving under Benitez with his more attacking tactics and positioning the African in the center of the attack rather than pushing him to the flanks as Mourinho did. Eto'o has scored 8 goals in Seria A this season and 4 in the Champions League!
Rafael Benitez described this match as a "derby of passion and pride" and also added the following: "It sees, it hears, the Derby breathes. All the players think about it, everyone talks about it. Even the fans remind you of it, all of it is quite particular. They are both better (Julio Cesar and Esteban Cambiasso), not one hundred percent, but if we will need them they will be ready. Of course, it will be easier for Julio as he runs less. The chances of seeing Marco Materazzi as a starte are realistic. A Derby game always needs a bit of passion and Marco has that."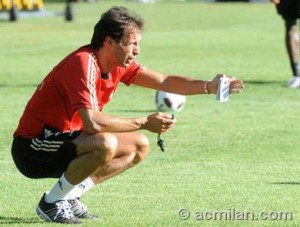 Milan's head coach Allegri meanwhile is concerned with the problems in attack having lost both Inzaghi and Pato to injuries this week: "With the injury to Inzaghi and Pato we lost two very important players for our team. Inzaghi, perhaps we have lost for the whole season even though I hope not. I regret that for a month and a half we will have only three players upfront because we have important games coming up and we will address the absencees. Tomorrow night there will be difficulties in the first place because it is the derby. Inter will come to the game very angry, but we will be too. Would I accept a draw? Before the game never hope for a draw, I like to play games. We are three points ahead of Inter, tomorrow will not be a decisive game for the season"
Our prediction for Inter v Milan is that the Nerazzuri won't lose this game. They are the current Champions of Europe and will try to remind that to their noisy neighbors. Milan have improved significantly over the summer, but they still have lapses which were exposed in matches against top class opponents like Real Madrid in the CL. They have a lot of players over 30 like Pirlo (32), Seedorf (34), Nesta (33), Jankulovski, Ambrosini, Gattuso and Abiati. So 7 of their 11 starters are almost in their mid 30s which is a serious age for football.
With Pato missing this game, Milan will be without one of their main weapons in attack. Of course, Ibra will be eager to score against his former team and make their fans crazy so a bet on him to score at any time is definitely worth it. Robinho is there with Ronaldinho who has not exploded in the last month or so.
It should be a spectacular derby with Both Teams Scoring (Goal/Goal @ 1,80) in it. Inter are at least in our opinion favorites to win it, but a draw is also likely. Inter have won the last three derbies so it's probably time for Milan fans to have some joy as well. What's also interesting is that these two teams have not ended in a Draw since 2006 which is strange for Italian derbies:
Sun 24/01/10 SEA Internazionale 2 – 0 Milan
Sat 29/08/09 SEA Milan 0 – 4 Internazionale
Mon 27/07/09 CLF Milan 0 – 2 Internazionale
Sun 15/02/09 SEA Internazionale 2 – 1 Milan
Sun 28/09/08 SEA Milan 1 – 0 Internazionale
Sun 04/05/08 SEA Milan 2 – 1 Internazionale
Sun 23/12/07 SEA Internazionale 2 – 1 Milan
Sun 11/03/07 SEA Internazionale 2 – 1 Milan
Sat 28/10/06 SEA Milan 3 – 4 Internazionale
Fri 14/04/06 SEA Milan 1 – 0 Internazionale
Sun 11/12/05 SEA Internazionale 3 – 2 Milan
Tue 12/04/05 UCL Internazionale 0 – 3 Milan
Wed 06/04/05 UCL Milan 2 – 0 Internazionale
Sun 27/02/05 SEA Internazionale 0 – 1 Milan
So the Milano Derby has not ended in a draw in the last 5 years which is a run of 10 straight games! That's probably a bit too much for such even teams and it's a big reason as to why it could happen tonight.
Inter Starting 11: 12 Castellazzi; 2 Cordoba, 6 Lucio, 23 Materazzi, 26 Chivu; 4 Zanetti, 5 Stankovic, 20 Obi; 10 Sneijder, 22 Milito, 9 Eto'o.
Milan Starting 11: 32 Abbiati; 20 Abate, 13 Nesta, 33 Thiago Silva, 19 Zambrotta; 16 Flamini, 8 Gattuso, 23 Ambrosini; 10 Seedorf; 70 Robinho, 11 Ibrahimovic
Inter v Milan: The most likely outcome is draw with the city neighbours sharing the spoils. If there is a winner though, we reckon that will be Inter.
Seria A Pick: Draw @ 3,30