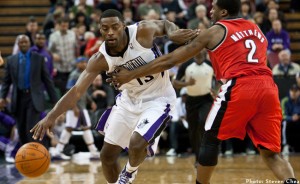 A typical Western Conference showdown is about to take place in Sacramento tonight as the local Kings square up against Portland Trailblazers. Both teams have been on a bad run lately with Kings having lost two in a row, while the Blazers have now lost their last four matches. Another interesting fact about this Blazers at Kings prediction is that the Kings have been the worst shooting team in the league percentage-wise, while Portland are among the worst defensive teams in the NBA. That should allow for the hosts to take advantage and improve on their overall shooting this season, but will it be enough to give them the win?
The Sac Kings are looking to turn things around this season and get in the playoff mix. Truth is that when all their players are healthy and not suspended, they do have a pretty decent squad that can compete against just about any team in the league, especially at the Sleep Train Arena in Sacramento, California. We are talking about a talented and extremely young group of guys, such as DeMarcus Cousins, Tyreke Evans, Jimmer Fredette, Thomas Robinson, Isaiah Thomas, Jason Thompson, Marcus Thornton, Aaron Brooks, Chuck Hayes, and John Salmons.
All these guys are really good players, and have a decent chance of winning against any team in the league. Yet, they are probably a bit too young for their own good, often go through long periods in the game without even hitting a single shot, have mental lapses, etc.
Of course, every accurate NBA betting pick and prediction takes into account as many factors as possible, and we have to turn our attention to Portland. The Blazers are a similar ball club in terms that they are also young and going through a learning period, and trying to form an identity, but the signs are not bad at all. The player they picked from the drat – Damian Lillard with the 6th pick has been very, very impressive in these opening two weeks. Perhaps his only poor game was actually his last one – Portland's loss at home against Atlanta last night where Lillad shot just 5/18 from the floor, and yet his team was still in the game.
Nicholas Batum has been playing at a Most-Improved-Player type of level so far in this young season. He is scoring threes, he is blocking shots, he is running up and down the court dunking on defenders. And in order to make the most accurate NBA prediction for this Blazers at Kings game on November 13th, we can't forget about LaMarcus Aldridge and Wesley Mathews. With Cousins absence, Aldridge will get the chance to dominate under the basket, and he also has that killer mid-range shot. Mathews is an excellent three-point shooter.
Blazers at Kings Prediction: Blazers to Win @ 2.30 on Money Line