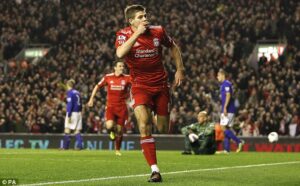 Another great weekend is in store for us, football punters and fans from all over the world, so we are bringing you our selection of today's best football betting picks to from the winning parlay. The semifinals of the FA Cup will be played, featuring the Merseyside derby between Liverpool and Everton, and the London derby between Tottenham and Chelsea, so both should be really cracking games.
Liverpool v Everton Prediction
Firstly, we would like to start out with the fact that it's an early fixture (at 13:45 CET) that would be played at Wembley, so the ground will not favor anyone. The Toffees have been in good form lately, having won four and drawn one of their last five matches. Their Scottish manager David Moyes confirmed: "We couldn't be going into the semi-final in any better form as we are in as good a condition as we possibly could be. We have to put that in perspective. We are probably underdogs even though we are in fine form at this time."
The league standings are also a confirmation that Everton are actually the better side here, despite the fact that they are not considered as favorites by the masses. Nonetheless, for Liverpool, this match is a chance to safe their season after all the mess they did in the Premier League. No one pays much attention to the Carling Cup they won, so unless they lift the FA trophy, this season would be considered a failure given the millions Dalglish spent on questionable (if not terrible) players as Carrol, Adam, Downing, and Henderson.
Another interesting fact is that Everton failed to score in the last two matches against Liverpool, recording two losses in the process (2-0 and 3-0). Thus, we do expect them to score in this one. Furthermore, Pool's starting goalkeeper Pepe Reyna and his first replacement Doni both won't be available for this one, because of the red cards they got in the club's last two matches. So the unknown and inexperienced Brad Jones will have to play a major role in this high profile game. That will certainly make it much easier for Everton to get on the score sheet.
Betting Verdict: Goal/Goal @ 1.83

Schalke v Borussia Dortmund Prediction

Another huge domestic derby as Schalke hosts the reigning Bundesliga champions and current table toppers from Borussia. Both teams have plenty of striking power, so if the game develops normally, we should see plenty of goals in it.
Betting Verdict: Over 2.5 Goals @ 1.80