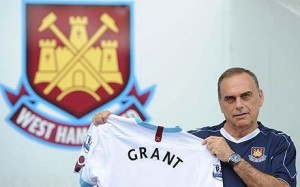 A manager-less Aston Villa take on West Ham in what promises to be a tricky encounter for the home side. Martin O'Neill resigned as manager of Aston Villa after issues with the club owners who didn't grant him enough money for transfers this summer plus are already planning on selling midfielder James Millner without his permission.
Thus, in this Aston Villa v West Ham prediction we have two clubs on the exact opposite end of things – the Villans will be without a manager at least for the time being, while this fixture will be the official debut for Avram Grant who took charge of the Hammers at the end of the last season. So we got uncertaintiy on one side and a fresh start at the other, that indeed is the key to our Aston Villa v West Ham prediction for the Premier League opener on the 14th of August.
There is also a very intriguing statistic related to this Aston Villa v West Ham prediction. The Villans are typically very poor at the start of the season and pick up their pace later on in the campaign, while the Hammers tend to start off with hot and then gradually cool down as the Premier League progresses. Aston Villa have won just one of their last 5 opening day games, while West Ham have won 4 of their last 5 first-day fixtures.
Reserve team coach Kevin McDonald will be in charge of Aston Villa for this game but it will certainly be a problem for the home side. Otherwise, they do have a decent squad that has proven to be capable of beating just about anyone in the English Premier League and they haven't sold any of their top players, at least not so far. Ashley Yong will still be there running on the right flang and supplying the forwards Agbonlahor, John Carew and Emil Heskey with crosses. Captain Stilian Petrov will also play from the first minute, so we are takling about a good squad.
But another problem for Aston Villa is the miss of two of theri defenders – Cuellar and Collins. Agbonlahor is also battling some injury problems so it's not guaranteed he will play.
Things look much better for the Londoners in this Aston Villa v West Ham prediction. They got Avram Grant at helm and he is proven to be a great manager plus he had the time to prepare his squad during the entire summer as he was appointed just after the end of the last season. Grant is expected to give debuts to all of his summer signings – Mexico winger Pablo Barrera, Winston Reid out of New Zealand and his old pair from Pompey Frederic Piquionne and Tal Ben-Haim.
Aston Villa v West Ham Prediction: the Villans are going through a lot of problems right now but this game is a great chance for them to show how rough and though they are so we expect them to win and please their fans.

Pick Aston Villa to Win @ 2,10