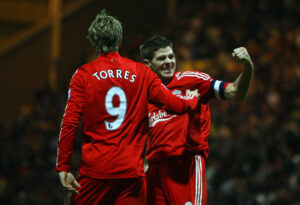 Two of the Premier League title contenders are squaring off today at Anfield thus we provide with our accurate Liverpool v Arsenal prediction. It's a massive game by all standards and it's a great way to start the season. There are a lot interesting things going on in both camps and we are about to reveal it all to you.
Arsene Wenger Signs a New Deal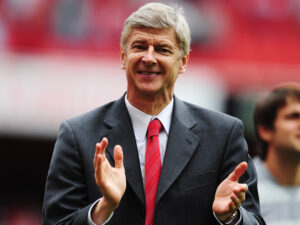 Good old Arsene Wenger signed a new 4-year deal that will keep him in charge of Arsenal at least until 2014. But what does this mean in terms of our Liverpool v Arsenal prediction? Well, it basically means there is a sense of stability at the Gunners' which will certainly help their players perform better on the pitch. Wenger is the longest serving manager in the history of the club and has already been in this position for 14 years now.
Here is how Wenger commented the contract extension in front of the official club website: "My heart belongs to Arsenal and my desire is to see this team win silverware. My commitment and drive are as strong and fresh as ever.  Signing a new deal means that I can see this talented group of players reach their potential.  Trust me, they are ready to deliver."
The Cesc Drama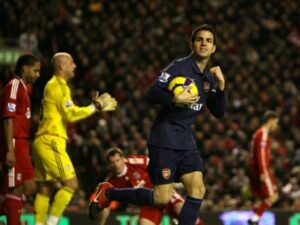 A big factor for any Liverpool v Arsenal prediction is Cesc Fabregas. With all the drama surrounding him this summer and all the talk about going back to Barcelona, it seems that Cesc is now content to remain a Gunner at least for another year. But will he be at his best? How will Arsenal fans take him after publically admitted his desire to leave? These are all important questions that will be answered on the field today by seeing how the Spaniard plays. Don't doubt it, he will play from the first to the last minute with the captain ambrand on his hand. But, he was on a trip to Mexico City this last Wednesday as Spain played a friendly against Mexico there, so this how travelling and change of hours could hurt his performance against Liverpool. Cesc is currently listed as "doubtful" but for such big games usually a condition like that is just another way of saying – yes, he will play but keep in mind he is not %100 fit.
Arsenal Team News
Our Liverpool vs Arsenal prediction can't ommit the fact that Robin Van Persie is another question mark as the Dutchman is still shaking off an injury. Good news for Wenger is that he bought Chamakh from Bordo during the summer and the Maroco player is top class. Diaby, Song and Denilson also face late fitness test to decide their availability. Bendtner, Djourou and Ramsey will miss the match.
Arsenal probably starting 11: Alumnia, Clichy, Vermaelen, Koscielny, Sagna, Diaby, Nasri, Eboue, Fabregas, Chamakh, Arshavin.
Betting Tips for Liverpool v Arsenal
Andrey Arshavin knows all about scoring goals at Anfield as he put not just one or two but all 4 in the back of Reyna's net during the classical 4-4 draw these two sides played out last year. So in terms of soccer betting tips and predictions, it's a great idea to back him to Score the First Goal in the match or Score At Any Time.
Liverpool Team News
When it comes to Liverpool, it all boils down to the condition of their key duo – Steve G and El Ninho. Gerrard and Torres are their most influential players and the way they play determines how the Reds stand on the pitch. Whenever they have a good day, Liverpool are capable of beating anyone.
The new names for Liverpool this season are coach Roy Hodgson, Joe Cole from Chelsea, Poulsen from Juventus and Jovanovic who impressed in the World Cup for Serbia. So Liverpool have improved their entire roster during the summer in an attempt to finally win that ever-illusive Premier League title.
The big saga for the club during the summer was want-away Argentine midfielder Javier Mascherano, but the club has not received any feasible bids so far hence he is about to stay at least for another year and will most likely feature in the match against Arsenal.
Liverpool probably staring 11: Reyna, Johnson, Carragher, Skrtel, Aurelio, Lucas, Gerrard, Aquilani, Mascherano, Torres, Cole
Liverpool v Arsenal Prediction: it's going to be a massive game at Anfield and with such even teams the most likely end result is always a Draw. Our free soccer betting tip is to bet on draw @ 3,30. The odds are even better of either team leads at Half Time and then the game ends in a draw.