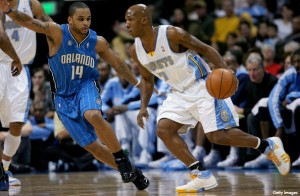 This is one of the better picks from tonight's action in the NBA, because it combines everything that a good betting pick consists of – good odds on good team, historical connection, change of fortunes and above all, there are no draws or bad ref calls as in football.
First of all, this game features two teams on the exact opposite end of things, because while Denver are on a run of 9 straight wins at home, Orlando Magic which were one of the best road teams in the NBA last season, have lost 6 out of 7 in Denver. Our prediction is that the Magic will stop Denver's home winning streak and at the same time improve their record in this particular building. It's not normal for a serious team like Orlando to have lost that many games in Denver lately.
The second strong factor working in Orlando's favor is the presence of Dwight Howard. The Nuggets will have a hard time stopping him just like any other team in this league. Jameer Nelson is there as well, along with Vince Carter, Pietrus, J.J. Redick, seriously improved Brendon Bass, All-Star forward Rashard Lewis, Gortat, Duhon, Quentin Richardson, and Jason Williams. Basically, the Magic have a squad deep enough to beat any team in the NBA.
Another huge reason making us pick Orlando for the win here is all the Melo-Drama surrounding the Nuggets right now. The future of their star player is in anything but certain and the speculations that he will leave to New York or New Jersey are fueled as each day goes by. Melo is not doing anything towards putting down the rumours, in fact it does appear that he wants out. And who can blame them for wanting to join a drastically improved Knicks team where he will combine talents with Amare, Felton, Galinari, Fields, and Chandler. All these speculations certainly don't improve the team spirit of the Nuggets and that will have an effect tonight. It's a huge distraction not only for the fans and front office, but also for the players. Anthony already refused to sign the 3-year 65 million dollar deal offered by the Nuggets organization and he looks set to move as a free agent over the summer.
Orlando Magic at Denver Nuggets Prediction: The Magic will end Nuggets' run of 9 straight wins at home and start a little streak of their own.