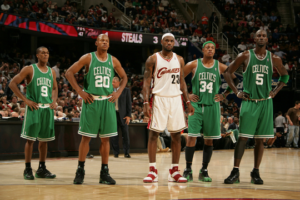 Celtics host the Cavs tonight looking to close the series 4-2 and advance to the Eastern Conference Finals against Orlando. This could well be LeBron's last game in a Cavs uniform, as there are serious speculations he is about to leave Cleveland this summer. But let's not get too ahead of ourselves right now. It's Game 6 tonight and the Cavs still have a good chance of turning things around setting up a Game 7 which would be in Cleveland.
The Cavs posted the best record in the regular season for a second consecutive year and if they go out so early in the Playoffs, it would be a major disappointment not just for them as a team, but for all their fans and the all the people who were pointing the finger at LeBron saying he is the best basketball player on the planet right now. They get themselves in this Do-Or-Die situation and it's up to them to pull themselves out of this deep hole. Basically, since they 2010 NBA Playoffs started, the Cavs have been struggling and are definitely not looking as sharp and as dominant as they used to back in the regular season. Perhaps it's a mental thing, perhaps it's a coaching issue, only they can find the answer to that question.
King James went iceberg-cold in Game 5 missing his first 8 shots and ended the game with 3-14 Field Goals. It was a dismal performance at the worst possible moment. His shot simply wasn't there and he looked weird from the very first minute. Perhaps it's the elbow injury or maybe it's something in his head. Does he have the mentality to be a champion? We will find out tonight! In such make or break situations, Michael Jordan would go on and carry his team scoring 60+ points if he had to, and would knock down all the clutch shots in the 4th quarter. So for LeBron to be able to put himself in that category, he has to deliver the goods tonight, regardless of what that means. He could have a triple-double or score 50+ points, or a hit a game winner in the final second, that doesn't matter. The important thing is that he has to do everything possible to help his team win.
The main question is who will show up on the floor tonight – King James or Stephen King? Stephen King making an appearance would mean that the whole LeBron fairytale would get a horror ending to it, as the Cavs continue to fail time and time again, despite all the acquisitions they made this season by adding Shaq and Antawn Jamison to their roster. King James showing up would mean that the Celtics might as well get trashed in Game 6 as it happened in Game 3 – with nearly 30 points difference. So who are you LeBron, a big time player or a big time flop throwing dust in people's eyes as a pregame ritual?
Here is what James had to say about this performance in Game 6: "For me, I've just got to go out there and do what's best. The fact that I spoil a lot of people with my play — when you have a bad game here and there, when you have three bad games in a seven-year career — it's easy to point that out. So you've just got to be better. I put a lot of pressure on myself to be great, to be the best player on the court. When I'm not, I feel bad for myself, because I'm not going out and doing the things I know that I can do. But I don't hang my head or make excuses about anything that may be going on. Because that's not the type of player or type of person that I am."
It's also true that the Celtics did a great job defending him and perhaps they have discovered a way to neutralize LeBron. He is being guarded by Paul Pierce most of the time, but as soon as he tries to go past him, at least 2 more Celtics player step in front of him, Garnet and Perkins in particular. If the C's continue to play this good D, it will be really hard for James to have a great Game 6.
LeBron looked remarkable calm as panicked reports and fans surrounded him after yesterday's practice:

Celtics v Cavs Game 6 Prediction: Our prediction is that James will lead his Cavs team to victory tonight, because it would be really horrific for him to go out so early in the Playoffs, even though they are facing such a great, experienced team. The online bookies like bwin, bet365 and betED offer odds of 2.00 for Cleveland on Money Line so you can double your money tonight!