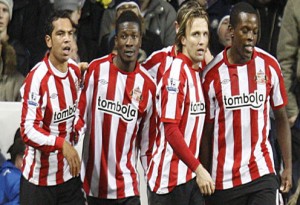 Table topers Chelsea host Sunderland at the Bridge in the last game of this 13th round in Barclay's Premier League. Everyone is favoring the Blues to get an easy win here, perhaps breezing past their opponents with 2-3 goals difference, but according to us, it won't be such a straight forward affair.
Our betting prediction for this game is for Both Teams to Score and the online bookies provide really good odds of about 2,25! The reason is simple – Chelsea are the strongest side in the EPL and also has the best defense having conceeded just 5 goals from 12 matches and all of them where on their travels! That's a very interesting stat right there. Chelsea have not conceded a goal at Stamford Bridge all season long, in fact the visitors have failed to score in the last 9 straight games in the EPL. Here are the stats:
10/11/2010 Premier League Chelsea vs. Fulham W – 1:0
3/10/2010 Premier League Chelsea vs. Wolves W – 2:0
03/10/2010 Premier League Chelsea vs. Arsenal W – 2:0
9/09/2010 Premier League Chelsea vs. Blackpool W – 4:0
28/08/2010 Premier League Chelsea vs. Stoke W – 2:0
14/08/2010 Premier League Chelsea vs. W.B.A. W – 6:0
09/05/2010 Premier League Chelsea vs. Wigan W – 8:0
25/04/2010 Premier League Chelsea vs. Stoke W – 7:0
13/04/2010 Premier League Chelsea vs. Bolton W – 1:0
That's a new league record and now that Chelsea has got it, it's time to end. It's absolutely amazing in modern day football and especially in the  Premier League where all the teams are so good. The last team to score at the Bridge was Aston Villa on March 27th and that was in a 7-1 loss! So it has been over 800 minutes of football at the Bridge in which not a single team has been able to put at least one past Czech.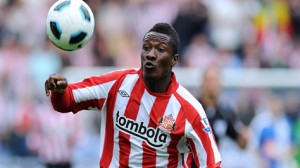 Well, there is a good reason why the Black Cats can get the job done today. We are talking about their record signing Ghanaian player Gyan Asamoah. He has scored 3 goals in his last 2 matches while still settling in England. Ivanovic who played against him at the World Cup issued the following warning:"He is a good player, has had great performances and is direct looking for goals and very aggressive, working hard for his teams,' the Serbian analysed. We will have to be focused and concentrated on him, he is new to English football and wants to show in every game his best."
Another really interesting statistic is that even though Sunderland have not won on the road in over 12 months now, they didn't lose on their visits to 6 of the top 7 teams in Britain – Liverpool, Manchester United, Arsenal, Manchester City, Aston Villa and Tottenham. They play hard football, lots of tackles, very physical type of game, just as their manager former Man Utd great Steve Bruce.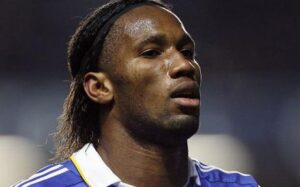 Our analysis shows that it will be a difficult game for Chelsea and we don't expect them to win with a big difference here if they even win in the first place. Sunderland are a dangerous side that has proven to be capable of surprising the very best and won't give in at Stamford Bridge. They are well organized on the pitch and if Chelsea fails to score in the opening 15-20 minutes, the Black Cats will gather confidence and momentum thus becoming even more difficult to break down.
In terms of the available squads, Chelsea will be missing Essien who is suspended. Lampard, Benayoun and Alex are also unavailable because of injuries. Sunderland are also missing a number of important players – their main goalscorer Daren Bent, along with defenders Ferdinand and Mensah, and substitute forward Daren Campbel.
Chelsea v Sunderland Prediction:
The odds for Chelsea winnig this one are definitely not worth it, except if you choose to bet on  Draw/Chelsea as First Half/Final Score type of bet where the odds rise up to 4,50! However, we feel that the best value pick here is Both Teams to Score, aka Goal/Goal because the Blues have not conceded for way too long now, while their goals are almost guaranteed with Drogba, Malouda, and Anelka up front.

Verdict: Both Teams to Score @ 2,30