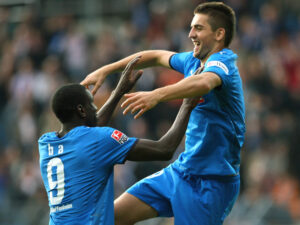 BetOnWins is about to help you get rich with our special and highly valuable football picks. Here is one of our most risky soccer predictions for the day, but it carries a very high odd. Borussia Dortmund will fail to win this game and we will tell you why.
Hoffenheim was a team that was on top of the Bundesliga last winter. Their president went on to invest mad money in a new stadium and new training facilities only to see his side failing one game after another. Hoffenheim have just 1 Win in their last 10 games.
Borussia is sitting comfortably at the 5th place in Bundesliga leading chasers Stutgart with 2 points and a game in hand. Thus they can avoid a little slip up here. Their coach Juergen Klopp was quick to indicated to their fans that it won't be an easy game for them as everyone expects. Here is what he had to say on the game: "We know from boxing that a battered opponent is often twice as dangerous."
Adding up to BVB's problems is the fact that they will be missing a lot of players in defense. Marcel Schmelzer is suspended so they will have to play an inexperienced 19 year old at the heart of their defense. We are talking about Julian Koch who has only 19 minutes of top level action  so far in his career.
BetOnWins Prediction: This is one of our most valuable football predictions for today! Borrusia Dortmund won't win this game so you should bet on Hendicap 0:1 which is the same as Double Chance for the Away team, x2. Bwin offers great odds for this bet! Handicap 0:1 at bwin is rated at 2.4!