A massive game is coming up at Old Trafford as Manchester United take on newly promoted Newcastle to give them a reality check on where they stand in the elite of English football. This season opener is a replay of 2008 when these two sides started against each other in a match that ended 1-1. Could a similar surprise result be in store now is what you are about to find out in our Manchester United v Newcastle prediction.
As you probably know by now, BetOnWins is all about providing you with the most accurate football betting picks and sports analysis and we are about to continue our string of accurate predictions with this match between the Red Devils and Newcastle United. Wayne Rooney is a player that's a very good pick for Scoring At Any Time as online betting companies provide odds of 2.00 on this bet. This means that you get paid as long as Rooney scores at least once in the match, regardless of whether it's the first, second or last goal in it.
The reason why we pick Wayne to Score At Any Time for this Manchester United v Newcastle prediction is becuase the English international has not scored even a single goal since the month of March! So we are talking about a major goal draught of over 4 months, which is quite bizzare considering the free scoring form Wayne was in during the majority of the 2009/10 season where he scored over 30 goals in all competitions.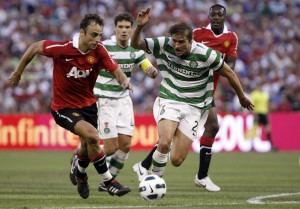 Dimitar Berbatov has also been showing some serious signs of improvements as he scored a lot of goals during United's summer tour. He also scored a maginificent chip against Chelsea last Sunday to help Man Utd win the Community Shield trophy with a convincing 3-1 victory over the Blues. A great betting tip for Man Utd vs Newcastle is to back Berbatov to score the 1st goal in the match or Score At Any Time.
There is little doubt over the fact that the Reds are the much better side and they have numerous ways of finding the back of the net. Antonio Valencia has been in great form producing excellent cross from the right wing, while Nani is also back and looking sharp. Javier Hernandez is set to come off the bench and everyone is now aware of his great skills and technique. Van Der Saar is back in goal so it will be very difficult for Newcastle to score but the positive news for them is that their iconic young striker Andy Caroll should be able to play after shaking off an injury.
Manchester United v Newscastle Prediction: Bet On Man Utd to win with over 1 goal difference. The Reds will dominate their opponents and have plenty of chances to score. In other words, we will see plenty of goals and betting on the Over 2,5 goals is also a good football betting tip.
Manchester United v Newcastle Hendicap 0:1 Pick Man Utd to Win