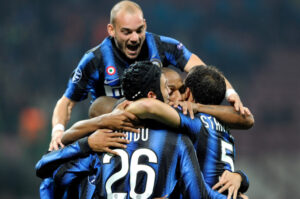 It's the 190th derby between Milan and Inter ever since their rivarly started back in 1929. The Nerazzuri have climbed their way back to the upper spots of the Seria A, with five straight wins they are now in fifth place. Juventus made a bad step today and drew at home with Cagliari, so Inter could theoritically get back in the title chace with a win in this derby as they are currently trailing by 9 points. A win for Inter will cut that deficit to 6. That will be a huge incentive for Ranieri's men.
The Interesting fact about this Milan v Inter prediction making it the top betting tip for today is that this particular derby which is one of the biggest in football has not ended in a draw since 2004. That's 16 straight city derbies without a draw, and such a run is just too long. Simply put, it should be an Inter win or a draw here, and both picks are offered at odds of over 3.50.
Inter have Sneijder and Forlan back, but they will both be on the bench, while Alvarez and Pazzini will be the respective replacments in the starting lineup. Milito will be the other forward, while Cambiasso, Zanetti, and Motta will be in the middle. Thus, we expect Inter to be stronger in the second half, so it could Draw/Inter Win in terms of Half Time/End Result.
Milan v Inter Prediction: It's a close call this one. Milan won the last three derbies, so it's Inter's turn now. At the same time though, it's never easy against Milan who have been superior all season long. Inter won't lose this game and that's the bottom line here. The value is on them to win as same bookies online offer 4.00! So 1/x and 2/x as First Half/End Result are real value bets @ 15.00 as well.