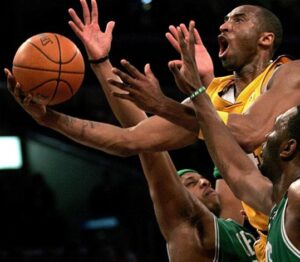 It's Game 6 of the 2010 NBA Finals and the Los Angeles Lakers are on the ropes as they are down 3-2 right now with the series switching to Hollywood for the next two games. Celtics know they need just another win in two attempts to claim the NBA Championship, so they are in the perfect position.
The Celtics had an impressive performance in Game 6 where they shot the ball over 60% for most of the time and had all their players stepping up. Paul Pierce was at last able to leave his mark on these Finals over scoring 27 points. Rondo was solid once again with 18 points, 8 assists, but he also had 7 turnovers! Kevin Garnett was on a high level posting 18 points and crashing 10 boards. Ray Allen had a decent game with 12 points, although he missed all of his 3 point attempts and is yet to even hit a three after the record he posted in Game 2.
So as we accurately analyzed in our NBA Finals Game 4 prediction, The Cs needed the entire Big Three playing good along with Rondo in order to win against the Lakers. And that's exactly what they did last Sunday as they took a crucial 3-2 lead in the series. However, it's not over yet.
It's do or die time for Kobe Bryant and Co and led by the most successful coach in the history of basketball, the Lakers should be able to do just about enough in order to force a game 7 in these NBA Finals, which is in fact what we predicted before the Finals even got started!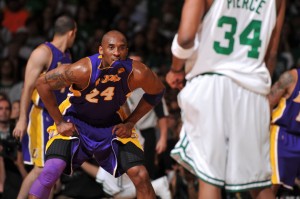 LA Lakers v Boston Celtics Game 6 Prediction is for a home win here. Kobe has been producing the basketball of his life over the course of these Playoffs. He is scoring from everywhere on the floor and the way he does is Amazing. He has not had an easy shot ever since the postseason started and yet he is still managing to post over 30 points per game, provide around 7 assists to his teammates and get over 5 rebounds each night. He certainly does not deserve to lose after working so hard and being as dedicated as he is.
Here is what Kobe thinks about these upcoming, crucial games: "Just man up and play. What the hell is the big deal? I don't see it as a big deal. If I have to say something to them, then we don't deserve to be champions. We're down 3-2. Go home, win one game, go into the next one. Simple as that."
LA Lakers v Boston Celtics Game 5 Prediction: The Lakers to Win and Force a Game 7. Given how serious they normally get after a loss on the road, LA should be able to even cover the -6,5 points spread on them, but against a team like the Celtics there is not a lot of value in a bet like that. Here our NBA picks for this game:

LA Lakers to Win Game 6
in combination with
Boston Celtics @ LA Lakers Over 187,5 points
Total Odd = 2,54