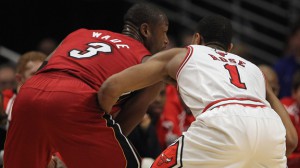 The Eastern Conference Finals have arrived and we bring you our Chicago Bulls v Miami Heat prediction for Game 1. This series is promising to be something amazing, and we expect a grind-out series that could go all the way to a crucial Game 7. The Bulls hold the home-court advantage throughout the 2011 NBA Playoffs as they finished with the absolute best record in the regular season.
About a year ago, we predicted that this would be the two teams that meet in the East Finals. You can read this post here. I actually made that prediction on Jul 15th, 2010.
So the first two games are at the United Center, where Chicago-native Dwyane Wade is always having a great time. That's his home town and he loves to put on a show there. That's definitely one of the decisive moments in our Bulls v Heat prediction for Game 1. Still though, the Bulls have won the majority of the games because of their defense. It's on the defensive end of the floor where they excell, but the same can be said about Miami. In fact, Bulls and Heat are ranked number 1 and 2 in oponents' points per game(OPP). Chicago allowed just 91.31 PPG during the regular season, while the Heat let 94.60. During the postseason, these two defenses have gotten even sharper as now the Bulls are allowing just 87.7, while Heat give 88.8 OPP. If you want to get the most accurate NBA betting picks and tips, you have to account for everything.
This Bulls v Heat Game 1 prediction, and respectively the entire series, will be shaped by how good these two defences are. It should be a scrappy type of game, despite having so many great scorers on the floor. In terms of the total points scored, I expect both teams to go Under 180,0 points combined. Bet365 offers that bet at 1,95, and that's one of our free betting tips for today.
These Bulls have turned into a real championship caliber type of team. It's not only Rose who has evolved into the league's Most Valuable Player, but it's mainly their combination of charismatic players, great role players, everybody has a specific role. Noah is there to crash the boards, and play hard defense, Korver is there to take the 3-point shots, Deng takes the load off of Rose on the offensive end. Boozer is perhaps the one who has to step his game up and he did show some signs of improvement in the last two games in the Atlanta series. That strong Bulls roster combined with the fact they will be playing at home is making bookies favor them to win in this Game 1 Bulls v Heat prediction.
Online betting companies are offering odds at about 1,80 on Chicago to win (Money Line), and that's our NBA pick for tonight. Under head coach Tom Thibodeau, Bulls have turned into the best defensive team in the league, allowing the least number of points and doing a great job of protecting the paint. They will make it awfully hard for LeBron and Wade to get on the free throw line which is a key part of their game.
Without a doubt, one of the key ingredients of this Bulls v Heat prediction is how Rose will perform. If he keeps on playing the way he has done so far this entire season, it means he will be producing at least 30 points per game and deliver about 8 assists. We will see Wade and James take turns against him trying to stop him.
This is the first Eastern Conference Finals appearance for the Bulls since the Jordan days. Exactly 13 years have passed since 1998 when Chicago won their last title. Now, Derick Rose has a similar type of influence on the court as MJ himself, and that's definitely not an over-statement. LeBron said they don't expect to stop him completely, and that's won't be their goal in the first place: "Like I've said, he's going to get his. Their team is going to play well. But we're up for the challenge."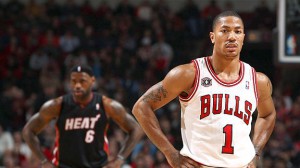 The Rose-LeBron matchup definitely holds the key to this Chicago Bulls v Miami Heat prediction, and that's not only for Game 1 on May 15th, but for the entire series. What's really interesting is that according to the stats, Rose has taken 30% of all Bulls' shots during the 2011 Playoffs. He has taken 256 attempts thus far, to be exact. But he has also dished out 90 assists, which is more than any othree three Chicago players combined.
Wade also made an interesting confession about the upcoming star: "He's a phenomenal player. He's figured out how to be great in this league – fast. We know he's going to score. He's going to do amazing things. It's our job just to make sure that we make it tough on him as possible. He's the MVP for a reason."
Chicago Bulls v Miami Heat Prediction, Game 1: Both teams are in greap shape right now, no injuries on either roster. Chicago lost the opener in their previous series against Atlanta, but still managed to come on top. However, that would be much harder against an opponent like Miami, so they would want to set the tone right from the start. Bulls won all three games against Heat during the regular season (3-0).