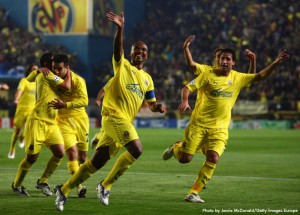 In the last round of the La Liga 2009-10 season, Zaragoza host Villarreal. Zaragoza have nothing to play for as they secured survival last round thanks to the losses of their direct opponents in the relegation area. They have 4 more than the 18th placed Racing Santander so even if they lose this game they will still remain in La Liga next season.
Villarreal however are still chasing their Euro goals as they are tied with Getafe at 55 points for the 6th spot giving a Europa League passage. They will be hoping that Getafe slips up, because the team from Madrid's suburbs have the better goal difference (+7 vs +1). However, it's quite unlikely for Getafe to drop points as they travel away to play Atletico Madrid who just won the Europa League this last Wednesday against Fulham. The problem is that just like Zaragoza, Atletico Madrid have nothing to play for plus they will probably be tired from playing almost 120 minutes in the Final in Hamburg. They will also have to safe their top players (Simao, Aguero, Forlan, and Reyes) for next week's upcoming Copa Del Rey Final so they will field their B-side for this game against Getafe. That's why online bookies are giving just 1.65 for  Getafe to beat Atletico!
Here is what Villarreal's midfielder Cani had to say on the club's current situation: "Zaragoza are safe, but they are professionals and will try to win because your fans never like you to lose. We must go and win our game and hope that Getafe do not. It is a pity that we don't depend only on ourselves, but I am sure Getafe will not find it easy at the Vicente Calderon."
Villarreal won against Zaragoza 4-2 at home in the first half of the season and it's clear they are the better side with the better players. But they put themselves in this difficult situation because of the extremely poor way they started this season, so they got only themselves to blame. It looks like even if they manage to beat Zaragoza, they will still fail to reach Europa League as Getafe look certain to beat Atletico Madrid's reserves.
Zaragoza v Villarreal Prediction: Villarreal will be looking to win this game but it's really strange why online bookies are offering such high odds on them – 1.80! If their win was so certain here, odds would have been much lower, in the range of 1.4 to 1.65! So this could be a trick to have people betting on Villarreal only to get burned as the Yellow Submarine don't have full control of their own faith anyway.
However, what's certain is they will find the back of the net at least once, and Zaragoza will be looking to finish their season in style in front of their own supporters so they should also score. That's why our top football prediction and betting pick for this game is to bet on "Both Teams to Score"!