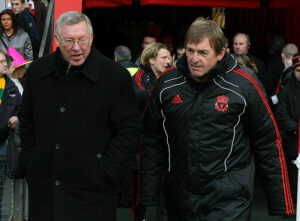 Finally, the international break is over and we can get back to what we love the most – giving the most accurate predictions on club football. The start of the eight round of the English Premier League couldn't have been better as Liverpool takes on United at Anfield. Last season was a historic one for the Red Devils as they surpassed Liverpool for the total number of titles won – 19, compared to the 18 won by Pool over the years. Of course, the main issue for fans at Anfield is that they have not seen their favorite team lift the trophy in over two decades now. Strangely enough, that period coincides with Ferguson's era at Old Trafford. What makes this particular Liverpool v Man United prediction even more special is the fact that at the moment, both teams are managed by Scots, as Kenny Dalglish is trying to bring back the good old days at Merseyside.
Going into this game, Man United top the league table with 19 points from 7 matches, whereas Pool are 5th with 13 points. United have lost their last three visits to Anfield, and another interesting stat related to the direct match-up between the two is that they have not ended in a draw since 2005, or 13 games straight! Examining such trends is very important in the world of accurate sports predictions and football betting picks. There is always value in going against the trend, and seeing this derby ending in a draw is the most logical outcome one could possibly imagine. The draw is the only sign in football betting that triples your money. Bet365 offers 3,30 on this game ending in a draw! Manchester are the slight favorites in their books as they can be backed up at 2,50, while Pool to win pays off at 2,80.
Of course, in order to get the most accurate Liverpool v Man United prediction for October 15th, 2011, one must take into consideration the players both managers have at their disposal. In that particular area, Kenny Dalglish has an advantage as he can rely on a fully fit squad. Here is what he said for the official club website: "We don't have any problems with anyone on fitness, everyone's come through their international games without any injuries. The lads who've been here have trained all week. I don't think it's happened too many times in the past but there isn't anyone on the treatment table."
For Ferguson however, the situation is a bit more complicated. Positive news is that he has Vidic back in contention but he is coming off a terrible performance in the Euro 2012 qualifiers where he practically ended his countries last hopes of qualifying by missing a penalty (why would they give their central defender take penalties?!) and putting a poor performance overall. He was out for over one month, so he certainly lacks match fitness now. Rio Ferdinand has been deteriorating in terms of form and match fitness over the past couple of years, so Man U will have difficulties sustaining Luiz Suarez. The starting right back Rafaelo is sidelined.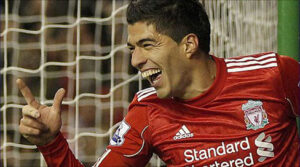 Here is what Sir Alex had to say about this Liverpool v Manchester United prediction for October 15: "I think they're the two most successful clubs in England historically and also from an initial point of view when industry changed and they opened the ship canal. To me, I've always considered that to be the game of the season in English football. It's fantastic for fans to see these games – the rivalry, great footballers, the intensity… to me it's the game of the season."
Liverpool Squad: Reina, Kelly, Carragher, Skrtel, Enrique, Adam, Lucas, Kuyt, Gerrard, Downing, Suarez, Doni, Agger, Johnson, Coates, Robinson, Spearing, Henderson, Rodriguez, Carroll, Bellamy.
Manchester United Squad: De Gea, Lindegaard, Amos, Smalling, Jones, Evans, Vidic, Ferdinand, Evra, Fabio, Valencia, Nani, Anderson, Carrick, Fletcher, Park, Giggs, Young, Rooney, Hernandez, Welbeck, Berbatov, Owen.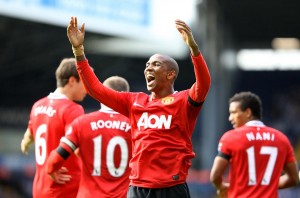 It's always important to back our Liverpool v Manchester prediction with the proper analysis. United have been playing the best football in England thus far. Ashley Young has settled in perfectly and with Nani on the other wing, Pools' defenders will have a though time. Rooney is back among the goals now, but his dad got involved in a football betting scandal this week, which obviously affected Wayne as he earned himself a stupid red card against Montenegro and now UEFA has handed him a 3-match ban ultimately meaning he will miss the group stage of the upcoming Euro 2012.
Liverpool have started to climb up the table, but in reality, they are not playing good football and they still have a lot of holes to fill and areas to improve on. They have won three straight games now, but one of the them was in the Carling Cup against 2nd division opponent, the other was a hard 2-1 win against Wolves at home, and then came the scandalous derby against Everton which they won mainly thanks to the referee who was quick to diminish the hosts to 10-men early on.
Hernandez just signed a five-year contract extension which drastically improved his salary putting him much closer to the other stars in the club. That should provide that extra bit of incentive for the Mexican to score against Liverpool, so backing him up to find the net At any time at odds of 3.00 is a decent option.
Liverpool v Man United Prediction: United are without a doubt the better side here. They are much more creative in attack, whereas Liverpool are slow in the build up and lack any real spark to their game besides Suarez. However, this is a derby and anything can happen. Plus, they expect to have Steven Gerrard back in the starting lineup, which would obviously be a huge boost for them. In terms of final result, our money is on the draw, because the hosts will put up a strong fight and will not accept defeat.