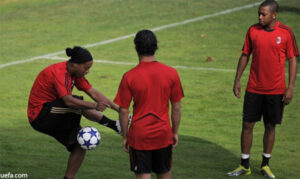 The Champions League is finally back in full swing with some great matches being played tonight all across Europe. Some of the biggest clubs face seemingly weaker oppositions and even though most of the favorites will eventually claim all three points, some major surprise are also about to happen.
AC Milan v Auxerre Prediction
AC Milan are expected to start with Ronaldinho, Pato and Ibrahimovic up front, while Robinho will be on the bench. With these three top players in their attack, the Rossoneri should have any major difficulties dispatching the French, especially after their loss to newcomers Cezena just a couple of days ago. This match will be the first chance for all Red and Black fans in Milano to watch their new heroes Ibra and Robinho, so a lot will be expected from the entire team and they will deliver tonight due to the fact that the opposition they will be facing is not of the highest class. No offense to Auxerre fans but Champions League is Milan's territory and as such they will make the most out of it by putting at least 2-3 goals past the French.
Real Madrid v Ajax Prediction
Real Madrid start off their CL adventure with Jose Mourinho in charge against a young Ajax team that's without their main star – Luiz Suarez. Without Suarez, Ajax simply isn't the same team as he scores about 50% of all their goals, so it's a huge bonus for this newly established Real side. The Spanish giants haven't been exactly impressive under the Special One so far, as they had a goal less draw in the league opener against Mallorca followed by a narrow 1-0 win against Osasuna with the goal coming from central defender Carvalho.
It's no secret that Mourinho was brought to Madrid to bring them their 10th title after all the struggles the club has been in recent years not managing to get past the Last 16 in the last 6 editions of the Champions League. We feel that tonight's match against an inexperienced and young Ajax side will provide Real Madrid with the perfect chance to shine and put out a great performance in front of their own fans in the competition they want the most.
Bet On Real Madrid To Win -1 Goal Handicap @ 1,83
Bayern Munich v Roma Prediction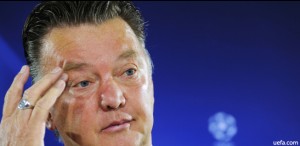 Bayern Munich host a wounded AS Roma side that's just coming of from a 5-1 loss to Cagliari in the Seria A. Bayern on the other hand have not been exactly convincing either, as they lost to newcomers Kaiserslautern 2-0 two weeks ago, and followed that surprise defeat with a goal-less draw against Werder Bremen over the weekend, exactly on Franz Beckenbauer's birthday! Certainly wasn't a great way to congratulate the club legend for his 65th anniversary, so they will certainly want to take all 3 points tonight against the shaky Italians.
However, AS Roma is not to be underestimated because despite their poor form so far in the season (3-1 loss in the Super Cup against Inter, 0-0 against Cesena, 5-1 loss to Cagliaril), they still have plenty of quality players with CL experience like Totti, Baptista, Taddei, De Rossi, Pizzaro, Doni, Riize, so they certainly won't go down quietly.
Bet On Bayern Munich To Win @ 1,65
Zilina v Chelsea Prediction
This is where expect to big surprise on the night to happen as Ancelloti is following on Sir Alex Ferguson's footsteps by deciding to field a rather weakened side against the Slovakian champions from Zilina. Zilina are not a bad team at all and this will be their dream debut in the Champions League, a match that both their fans and players have only dreamed of. This will increase their motivation to almost cosmical levels which should lead to a great performance by the home side.
Chelsea will be without their top players in every position of the pitch. Ashley Cole won't play, so the defense won't be on their maximum level and let's not forget their other starter Ricardo Carvahlo left for Real Madrid. In midfield they will be feeling the miss of Frank Lampard while in attack they will have to do without Didier Drogba.
Carlo Ancelloti actually had the odacity to share his starting 11 a day before the match, which is already a sign of underestimating the opposition.
Chelsea Starting 11: Cech, Ivanovic, Alex, Terry, Zhirkov, Benayoun, Essien, Mikel, Malouda, Anelka and Sturridge.
Bet On Draw @ 5.00, but keep in mind we are going for the surprise here.