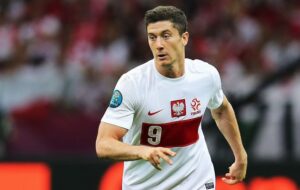 EURO 2012 is now entering its crucial stage where all of the final group matches in round three would be played simultaneously, so we bring you the most accurate Poland v Czech Republic prediction. The hosts are yet to win a game at the Euros and drew their first two games with an identical 1:1 scoreline, while the Czech got a good win against Greece giving them a one point lead over Poland. Quite naturally, football fans are hyped up about this game and everyone is looking for the right Poland v Czech Republic prediction.
Obviously, only a win would do for the home side, and they would be desperate to bring joy to their domestic fans. It was their goal at the start of the tournament to make it through the group stage and be among the last 8 teams standing. With Greece now definitely out of the picture even despite their chances only in theory, and Russia looking odds on to win the group, it's between Poland and the Czech Republic to battle for the second spot. A safe Poland v Czech Republic prediction is that we will watch a highly intense game with tons of pressure.
Speaking of pressure, perhaps the Czechs are in better position to handle it as they have arguably the continent's best keeper, although he did make a serious mistake that led to Greece's goal in the 2:1 win. Their midfield guru Thomas Rosicky is another experienced player used to playing in big matches under huge pressure. However, there are some doubts as to whether he would actually be available. He will have to pass a fitness test before the match. One of our Poland v Czech Republic predictions is that he will feature.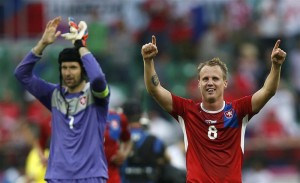 Here is how their head coach Bilek described the situation for his team about that Poland v Czech Republic prediction: "Tomáš is our key player. The team is more confident with him in it, because he is able to manage and lead the team. He is a great attacking midfielder. He is good in bringing others into the game and in possession of the ball. It would be difficult without him, but injuries are part of the game and if he can't play we will have to replace him."
Speaking of Poland, Bilek had the following to say: "They have drawn twice, and I believe they won't win the third game either! It would be the end for us. It is a team with good players, especially from Borussia Dortmund, such as Jakub Błaszczykowski and Robert Lewandowski. They are key players and good at set pieces. It's a balanced team, their reserve goalkeeper is also good."
The strength of the Polish side comes from their "home court" advantage in combo with the fact they got some really talented young players earning their money at some of the better teams in the Bundesliga. The Dortmund duo of Lewandowski and Błaszczykowski is their strongest link, and Kuba is a highly skilled player that can make the difference at any time. He proved that by scoring the spectacular equalizer against Russia. Piszczek is another Polish national playing for the German champions Borussia Dortmund, so this side has three top players that know each other to perfection. The performance of these three players holds the key to an accurate Poland v Czech Republic prediction.
Poland v Czech Republic Prediction: To get our betting pick for this game, please register for our service.