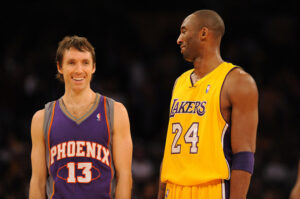 The Western Conference Finals get underway tonight in Los Angeles as the Lakers take on the Suns in Game 1. The LA Lakers are where everyone expected them to be at this time of the year – playing the West Finals looking to repeat their title. The Suns however are more of a surprise package as they went on to sweep their biggest rivals in recent years, San Antonio Spurs. Now, Suns are just a step away from the 2010 NBA Finals but to make it they will have to go through another big rival in recent years, the LA Lakers.
The Lakers won the series in the regular season 3-1 as their Bigs completely dominated the paint. The outcome in their Playoff battle will seriously depend on how Bynum plays, big or small. Bynum was really quiet in the last two games against the Jazz, so the question is will he have a big game tonight? If he does not, the Suns will definitely cause a lot of trouble. So Bynum is the X-factor in Game 1. Good news is that both teams had a lot of time to recuperate for these Finals as they swept their previous opponents thus they had 6 full days or rest. That's plenty of time for Bynum to recover as it was clear he was playing through his knee injury, Nash will be able to play with both eyes open, and Kobe got a chance to rest his index finger, ankles and knees.
Suns are without a doubt one of the most dangerous teams in the NBA as they finished the regular season number one in the PPG category scoring about 110 points in every contest. But what has been making the difference for them during the 2010 NBA Playoffs has been their major improvement in the defensive department and the fact they are playing as a real team helping each other on the floor. You can clearly tell by looking at their game they got great chemistry between them, and Steve Nash has certainly helped in that direction as he is their leader and the guy who connects all the pieces together.
In terms of NBA betting picks and predictions, watch out for a lot of Pick & Rolls between Nash and Amare, and if their 3-point game starts clicking, J-Rich, Dudley, Frye, Barbosa and Dragic can really hurt the Lakers on the perimeter. The Suns have a great bench right now, whereas the Lakers bench is letting the team down every now and then. So a lot in Game 1 will depend on bench players and it will be a major advantage for the Suns tonight if their reserves continue to play as they've done so far in the postseason.
Pau Gasol is having a great Postseason so far and everyone can see how his game has improved this year. Spurs coach Gregg Popovich labeled him as "the most skilled big man in the game." His mid-range jumper is incredible for such a big guy, his free throws are about 80% and of course he is very productive in the paint. In combination with Bynum and Odom, the Lakers become an almost unstoppable force under the basket and that's where they hold their biggest advantage against the Suns.
Here is the official Pre-game analysis by Reggie Miller:

LA Lakers v Phoenix Suns Game 1 Prediction: Looks like this is going to be a very difficult game for the Lakers due to the health problems of both Kobe and Bynum. Kobe hasn't trained for a whole week due to a swollen right knee and it appears that the Lakers are limping into these Western Finals against a dangerous Suns team that won't take any pity on them.
BetOnWins Free Pick For LA Lakers v Phoenix Suns Game 1:

Double Result Half Time/Full Time – Suns/Lakers, that's Suns to lead @HT but Lakers Win The Game. Available only in bet365 @ 5.25 – Great VALUE on this bet because it's highly likely for the Suns to start off hot and take the lead at HT only to witness how reality kicks in the second half with the Lakers getting extremely serious in crunch time. Also, this bet is a great back up if you are going to bet on Suns to win the entire game which can't be excluded. Of course, that's a very risky bet but it's definitely worth the shot! You can try it with like 10% of your bank because of the sky high odd!
LA Lakers v Phoenix Suns Game 1 Best Betting Pick (Was Offered As The Paid Pick Before The Game): LA Lakers To Win -6,5 @ 1,9