The Superclasico in South American football is on tonight as we provide you with the best River vs Boca prediction. This is a must-see game, an absolute classic in the making and you should get ready for a real football fiesta. But behind all the fireworks, war of words and dirty tricks, it all boils down to who wins it and when it comes to that, our River Plate vs Boca preview says it all.
River Plate v Boca Juniors Prediction – The History
A wise man once said "Know your history to shape your future." So we thought about taking a closer look at the history of this derby and it starts with the Spanish and Italian immigrants that came to South America in the beginning of the 20th century. That's how in 1925 River was conceived and they were associated with the upper and middle classes of the Argentine society, hence their name "Los Millonarios" . Boca were a team of the working class and this image stays with them till this very day. The first match between those two rivals was played back in 1913 and River won it 2-1. Coincidentally, we feel that this game tonight, on 15th of November 2010 will have a similar outcome.
An interesting fact is that referee will be Hector Baldassi and this will be the 17th derby that he officiates. It's obvious that not just the AFF but also the people in Argentina have faith in Baldassi and we don't have any reason to believe he will have any kind of effect on this River v Boca prediction.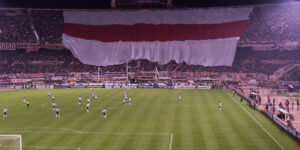 We are going to give it to you straight. Our River vs Boca prediction is that the Millionaires will win and we have plenty of reasons to think why this will happen. First of all Rver are playing at home and in Argentina the crowd really is a team's "12th man" as they say. The atmosphere will be incredible and that just has a very strong effect on the home players. El Monumental in Buenos Aires can be a scary place for visiting teams with a capacity of over 65,000 and you can be sure it will be sold out for this one.
You should watch this game and see for yourself. There are not a lot of football matches in the world that come close to this one in terms of quality of football and stadium atmosphere. You can watch the game LIVE and absolutely for FREE at bet365.
But back to our River Plate vs Boca Juniors prediction. River have a very good team right now with talented young players like Buenanote, Funes Mori, and above all Franciso Pavone. Pavone came back from his spell in different clubs in Europe and now looks in great form. Defenders have a hard time stopping him when he is with the ball in his feet. Really a great striker and just might score the Fist Goal in the match. River have a good mix of youth and experience as they have Ortega and Almeyda in their lineup. Goalkeeper is Carizo and he is a national player. Funes Mori is River's leading scorer this season with 5.
River Plate v Boca Juniors Prediction – Team News
There is a bit of good and bad news for Boca going into this derby. On one side they got captain Riquelme pack in the lineup, but their starting goalkeeper Cristian Lucchetti is officially out after a row with head coach Claudio Borghi at the training ground this Tuesday. So Javier Garciea will start in goal for Boca, but having such conflicts at the club is never a good sign plus this will be Garcia's only 2nd match this season.
On the other side, River's playmaker Diego Bounanotte is in doubt and will face a late fitness test. Ortega will take his place in case he is not match fit, but given the magnitude of this derby, we reckon he will play.
River Plate v Boca Juniors Prediction: The key to this River vs Boca prediction is that the Millionaires have not won this derby in the last 3 years. Plus, River are on a run of 5 straight draws followed by a defeat. They have not won in a long time and will be eager to get the 3 points here and make it up to their fans. Furthermore, this match will mark the debut of their new head coach and that's another strong factor.