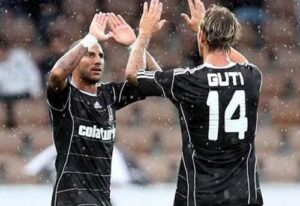 BetOnWins brings you the best Europe league predictions for today, the 16th of September 2010. It's the start of the group stage so there are a lot of highly valuable bets that can be made here. There are a number of quality sides in the competition and title holders Atletico Madrid will be looking to prove they are worthy champions in a tricky visit to Greece where they will be playing Aris. Elsewhere, millionaires from Manchester City will take on Salzburg in Austria in what could be a surprise for the English club.
Besiktas v CSKA Sofia Prediction
We start our list of best Europa League predictions fort today with the safest pick of them all – Besiktas to beat CSKA Sofia. The Turks are the way, way better side here and will put at least 2-3 goals past the Bulgarians. Besiktas made a number of high profile signings over the summer transfer period that included names such as Guti from Real Madrid and Ricardo Quaresma from Inter Milano. These two are now starting to get back to their best and against a lowly opponent as CSKA, they will lead Besikstas to a convincing win. You can bet on Besikstas to lead at the Half Time which is available at 1,72 or you can directly go for the -1 Goal Hendicap on them.
Bet On Besiktas to To Win -1 Goal Hendicap
Aris Salonika v Atletico Madrid Prediction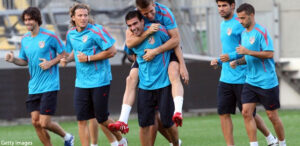 There are some really interesting facts surround this Aris v Atletico Madrid prediction. Let's start off by saying that coach of the Greek side is the Argentine Hector Cuper who in the past coached some of the biggest sides in Europe like Valencia and Inter Milano (led them to a CL Semi). A super impressive statistic regarding Aris is that they have not lost a home match in Europe for 40 years now! 40 years without a defeat on the European stage is so impressive that even the major clubs like Real, Milan and Barca can brag with a stat like that. But good things always come to an end and we feel this could be today against the defending champions from Spain.
We got some really good reasons why Atletico will win this match and why this bet is one of the best Europe League predictions for today. Atletico have players of a much higher class and there is basically no need to go over their names one by one. The likes of Forlan, Aguero, Simao and Reyes should be more than enough to handle Aris. On the other hand, Hector Cuper will have to deal with the absentees of key figures for his team such as uan Carlos Toja, Danijel Cesarec and Neto who are all suspended, Toni Calvo who misses out due to personal reasons, and Deividas Česnauskis who is healing a groin injury. Cuper only has 16 players at his disposal and 3 of them are goalkeepers. That's why Atletico Madrid to beat Aris is one of the best Europa League predictions for today!
Levski Sofia v Gent Prediction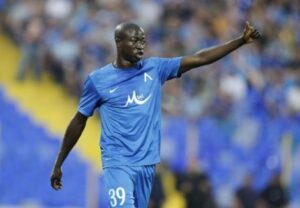 Our next best Europe League prediction for today features Levski Sofia v Gent from Belgium. Levski are the best side in Bulgaria right now and are certainly going through one of the best periods in the last several years. Their signings over the summer are paying off big time, particularly the attacker Garra Dembele who already has 9 goals to his name so far this season. Gent are nothing special and up against them will be a hungry Levksi side backed up by nearly 30,000 fans in Sofia.
Lausanne Sports v CSKA Moscow Prediction
Another one of our high accuracy Europa League predictions for today. CSKA Moscow have a number of high quality players like Vagner Love that should make the difference against the lowly Lausanne team. The Swiss side Lausanne have not lost to a Russian opposition in their entire history and it's about time for that to happen. Furthermore, Lausanne are without a defeat in their last 7 European matches which is another interesting statistic pushing things in favor of CSKA Moscow. Betting on CSKA to win here is certainly among the best Europe League predictions for today.
Bet On CSKA Moscow To Win @ 1,50