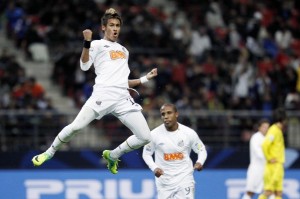 The FIFA Club World Cup Final is about to go down this Saturday, December 17th, and as usual we have prepared for you the most accurate Santos v Barcelona prediction. Santos won their semifinal against the hosts from Kashiwa Reysol and they put in a nice performance to score three really beautiful goals and end 3-1. Barcelona's game had four goals as well, but as usual, they were all in their opponents' net. However, this victory tasted like a defeat for the Catalans as their striker David Villa broke his leg and is now expected to miss the next 6 months, including the Euro 2012 championship. So what's our Santos v Barca prediction?
Santos have a lot of quality on their side. Neymar proved in the semifinal victory that he is just as good as people in Brazil claim, if not better. The way he dribbles the ball is simply breathtaking, it's practicly impossible to take it away from him without a foul. Often he gets back to the center of the pitch to get it, stat off an attack, beat a couple of defenders or either finish or find an open teammate (that's actually a bit rare). The man pulling the strings for Santos in midfield is another young and hot Brazilian talent – Ganso. The performances of Ganso and Neymar hold the key to our Santos v Barcelona prediction.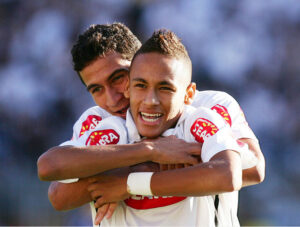 Ganso is a real magician with the ball, capable of beating his marker and then finding the open man with a great through pass. It's a real treasure for the future of Brazilian football to have such young players coming up like Neymar and Ganso. And yet, that has always been the case with Brazil, hasn't it? They have always produced an abundance of talent, and the entire team of Santos is a sign of that. They will cause trouble for Barcelona.
It should come as no surprise that our Santos v Barcelona prediction is for an open match, with loads of spectacle and goal scoring opportunities. Both teams should be able to find the back of the net here, and that usually results in a game with Over 2,5 goals, but it could go into Extra Time, so Goal/Goal looks like one of the best betting tips for today.
Santos won the 2010/11 edition of Copa Libertadores and that's the South American equivalent of the Champions League. Their head coach Muricy Ramalho has been preparing for this final for months now, while Barcelona's calendar is so intsense they hardly had the time to think about it. Another star player on their squad is versatile right-back Danilo who scored a cracking foul against Kayshiwa. He is another reason for our Santos v Barcelona prediction to be swinging towards a balanced game, that will not be as easy for the Catalans as most people think. Danilo told FIFA.com: "It's incredible. It feels like everything's fallen into place, as if it was destined that my final game in my first spell at Santos would be nothing less than a World Cup final against Barcelona. There's only one thing I'm certain of: if we have a good day we're in with a chance of winning."
One of the best football betting tips for today are based on a Santos v Barcelona prediction for a draw. I mean the most Santos can take out of a game against Barca is a draw in regular time. Then, practically anything can happen in the additional 30 minutes and eventually penalties. The odds provided by Bet365 for a draw are 5.25! That's massive, really the best betting value for today. At the same time, a Santos win will multiply your money by 10 times! Barcelona are the obvious favorite to win with bet365 offer 1.28 on them. One of the most best Santos v Barcelona predictions in terms of probablity and value is the Draw.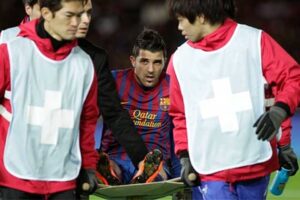 As mentioned, David Villa suffered a serious injury and is expected to miss the next 6 months. But Barcelona's players will try to use that as an extra motivation as Pedro stated for the club website: "It was the worst news in the world, but his injury motivates us more, because he really wanted to win this title for the first time. We have overcome many things in recent years, and it has always because of the unity in the group."
Santos v Barcelona Prediction: A really interesting fact about this Santos v Barca prediction that you probably did not know is that the Catalans have never won against a Brasilian side in an official match. Barca lost two previous finals against the Brazilian sides Sao Paulo and Internacional. Another bad omen for them is that Alexis Sanches is doubtful for the final.