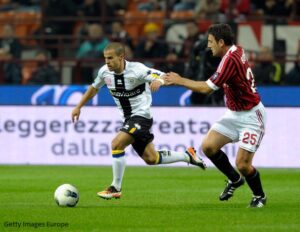 Another great weekend awaits us this time around. We've done our research for you in hope to bring you the very best and most accurate football betting predictions. Our picks for today, March 17th, focus on the four big leagues in Europe. Only two Premier League games are about to be played today due to the FA Cup taking place this weekend. In Italy, the leaders have difficult fixtures away from home, as Milan travel to Parma while Juve take on Fiorentina. The Bundesliga is also heating up quite nicely with Bayern Munich still looking for their first away win in 2012, while leaders Borussia are undefeated in 19 straight games and are looking to set a club record by avoiding defeat against severely handicapped Werder side.
Parma v AC Milan
Milan are continuing their push for the Seria A title, but so are Juve. Every point matters, and they never come easy at Parma's ground. At home, the Parmalats have been quite strong this season having scored 22 goals in 33 league matches. Positive news for former Italy coach Roberto Donadoni is that he will be able to include first-choice goalkeeper Antonio Mirante and striker Sergio Floccari in his starting lineup. That's a major boost for Parma, especially against a Milan side that will field a shaky defense. Allegri can't rely for this game on Nesta and Abate – his starting central and right defenders. Meanwhile, Mexes is serving a suspension so he will be unavailable as well. Robinho and Maxi Lopez will have to undergo late fitness tests, thus their participation is uncertain as well.
In light of all that, it won't be such a surprise to see Milan drop a couple of points here. The draw is indeed a valuable option that's being rated by online bookies at 3.50. However, Goal/Goal is quite a good bet here as well, and although the prices are lower (1.83), the certainty is high.
Betting Verdict: Goal/Goal @ 1.83

Bayer Leverkusen v Borussia M'gladbach Prediction
An interesting fact about this game is that Leverkusen have only lost once to M'gladbach in their last 29 encounters, recording 15 wins and 13 draws in the process. Another super interesting fact here is that Borussia Munchengladbach are on the verge of recording their 200 away win in the Bundesliga, 400th draw or 500th defeat.
It promises to be a goal-scoring fest with these two sides producing an average of nearly 5 goals in their last 7 encounters. And yet, Gladbach have failed to score in their last two matches, so we fell they will stop this run here, which should subsequently lead to a Goal/Goal game with Over 2.5 goals in it.
Betting Verdict: Goal/Goal @ 1.90