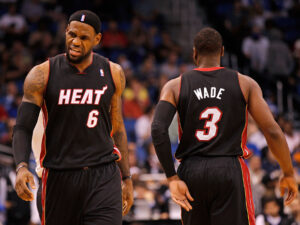 The NBA 2012 NBA Playoffs are getting more and more exciting with each day. Bad news is that an entire superstar starting five can be assembled just out of the players that got injured in recent weaks, and that makes the entire postseason even harder to predict. Tonight, Miami would be looking to regain control of the series after losing their home court advantage as they allowed Indiana to steal a win at their building. It has now been a well known fact that the Heat will have to deal without the solid output of Chris Bosh. Bosh got injured while dunking on Roy Hibbert in the opener, and now his status is "uncertain for the rest of the series". Can the Pacers exploit this problem for the Heat and take a 2-1 lead? We answer that question in the best NBA betting prediction for May 17th, coming in the form of this Heat at Pacers pick.
If the Heat fail to win this series it would obviously be a major upset. Another Playoff failure for LeBron would be devastating not only to his public image, but to his self esteem as well. However, one of the best NBA predictions for the 2012 season is that Miami will have a very, very hard time just getting into to the Finals, and even if they make it there, a potential match-up with OKC, Spurs or Lakers seems extremely difficult to win.
There is not much in common between Miami and Indiana. While the Heat took the short path of bringing in already developed stars, the Pacers driven by Larry Bird's basketball IQ and vision have built a solid and much deeper team. Yes, they might lack a real superstar, but basketball is a team game first.
Larry Bird is the man witht he master plan in Indiana. The guy is one of the greatest players ever, and so far in his career has made much, much better basketball management decisions than Jordan with his Bobcats who officially became the NBA's biggest losers ever with the worst winning percentage in a season. But back to the topic of this Miami Heat at Indiana Pacers prediction, the accurate betting pick is based on analysing these two teams from start to finish. Bird has brought in some really good players. Danny Granger has not even started playing well in these series, and being at home for tonight's came will help him make his best game so far. That's the most accurate NBA betting pick you can get for tonight, and you should check the "Individual player performances" options at your bookie.
David West is a player that a lot of people doubted after suffering an ACL injury at the end of last season. It's the same injury that D-Rose is fighting through right now. It's the most serious injury there is in basketball, and it takes 8-12 months for complete rehab. Yet, it's never certain even after a complete rehab whether or not the player will be able to get back to his previous best. Well it seems that David West has done that. He had a great Game 2, posting a double-double with 16 points and 12 rebounds.
To continue with our NBA betting analysis and Heat at Pacers prediction, one also has to account for the simple fact that without Chris Bosh on the floor for Miami, they are losing a major asset in half-court game situations, and they are also in huge disadvantage under the rim. Roy Hibbert has been oustanding so far. The guy is 7-2 ft, making him practially unstoppable for any Heat player. He has a nice touch around the basket, and can also knock down free throws with his 80% FT average making him among the best in the entire league at the Center position.
The key to tonight's most accurate NBA betting pick and this Heat at Pacers prediction is that Miami are considered as favorites to win by the online bookies, and those in Vegas too. LeBron and D-Wade are expected to win and take control over the series. But the Pacers are for real. What was an interesting scene after their win in Game 2 is how the experienced David West shouted at his team mates to quickly get back in the locker room and stop playing around and celebrating. He said a single win was nothing to go crazy about, because their goal was to win the series, eliminate Miami and go into the Finals.
NBA Betting Verdict: Indiana Pacers to Win @ 2.20