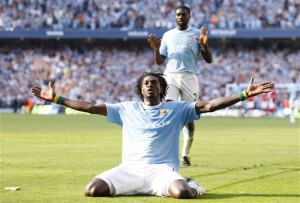 Manchester City already recorded an emphatic 4-2 victory against Arsenal in the first meeting between the two teams this season. Repeating this victory once again could have them rise up to the 4rd spot in the Premier League as Tottenham will most likely lose against United.
Arsenal have major injury issues. Out for Arsenal are the following players – Andrey Arshavin (calf), goalkeeper Manuel Almunia (wrist) and Denilson (groin), William Gallas (calf), Thomas Vermaelen (calf), Kieran Gibbs (foot), Johan Djourou (knee) also remain sidelined, as are midfielders Cesc Fabregas (fractured leg) and Aaron Ramsey (broken leg).
City on the other hand are on the opposite front of Arsenal when it comes to injuries as they welcome back Kolo Toure, Sylvinho and Emmanuel Adebayor. City have plenty of attackign players up front that are more than capable of exposing the problems at the back of Wenger's shaky team. Graig Bellamy, Wright-Phillips, Carloz Tevez, Santa Cruz and Adebayor! They will be supported by excellent midfielders like Kompany, De Jong, Adam Johnson. Their defence is solid with one of the world's best goalkeepers, Shay Given and top defenders like Richards, Bridge and Toure.
BetOnWins Prediction: Traditions are to be broken and we have an inredible betting tip for you here! Manchester City HAVE NOT WON AWAY AT ARSENAL SINCE 1975 and our prediction here is for MAN CITY to WIN against Arsenal today! The odds for City are really good as bet365 offers 3.75!