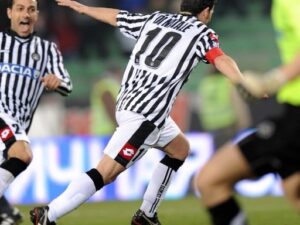 This is the second leg of the Coppa Italia semi-final tie between Udinese Calcio and AS Roma. Udinese might be fighting for survival in the Seria A but it's the cup where they have played their most impressive football so far. It's the typical football fairytale story in which a team that's doin bad in the domestic league is producing some dramatic victories in the cup. Just like Portsmouth in England for example.
However, the proble for the Bianconeri is that they would have to overcome a 2-0 deficit on the night as that's the result in which they lost the first game at Stadio Olimpico in Rome. The hosts will have a mountain to climb but given how motivated they will be, it won't be that surprising to even see them reach the Coppa Italia Final.
As a matter of fact, betting on Udinese to reach the Coppa Italia Final is quite a valauble bet becuase it's time for a change in this tournament. Inter have already reached the Final and if Roma makes as  well, it will be the same Inter-Roma Coppa Italia final for the 5th time in 7 years! Fans are probably had just about enough of watching the same final thus it might be time for a change. Bwin is the only online bookie right now to offer odds for "Who will advance to the next round?" and for Undinese the odds for that are 8.00!
Of such an outcome is definitely not something you want to bet your house on but it's worth giving it a try. The more realistic football prediction here is to lay some money on Udinese to lead at Half Time or win the match.
When it comes to betting on football, the best tip you will ever get is to go against sides which are "expected" to win and have made a big win just recently. That's exactly the case with Roma. They won the city derby after being down at Half Time as they produced a stunning comeback in the second half. Now, they will be able to continue in the Coppa even if they lose with 2-1 or 1-0.
Udinese have been improving seriously in recent weeks as their striker Antonio Di Natale is scoring goals like crazy. Toto has 24 goals in the Seria A, but none in the Coppa Italia so far, thus we advice you back him up to score 1st. Bet365 offers 5.5 for Di Natale as 1st Goal Scorer!
BetOnWins Football Pick: Udinese will field their best side while Ranieri might try to rest some of his star players for the more important league games as they have a comfortable lead of 2-0 from the first leg. Udinese will be looking to score early on and the man most likely to do that is Antonio Di Natale so our football picks for this game are Udinese to Win and Di Natale to Score First!